July 12, 2012
02:00 PM
Russell Senate Office Building 253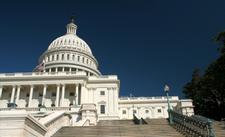 WASHINGTON, D.C.— The U.S. Senate Committee on Commerce, Science, and Transportation will hold a hearing next week on "Medication and Performance Enhancing Drugs in Horse Racing." This hearing will examine the prevalence and use of medications and performance enhancing drugs in horse racing.
Please note the hearing will be webcast live via the Senate Commerce Committee website. Refresh the Commerce Committee homepage 10 minutes prior to the scheduled start time to automatically begin streaming the webcast.
Individuals with disabilities who require an auxiliary aid or service, including closed captioning service for webcast hearings, should contact Collenne Wider at 202-224-5511 at least three business days in advance of the hearing date.
###
If you are having trouble viewing this hearing, please try the following steps:
Clear your browser's cache - Guide to clearing browser cache
Close and re-open your browser
If the above two steps do not help, please try another browser. Google Chrome and Microsoft Edge have the highest level of compatibility with our player.
Majority Statement
Senator John D. (Jay) Rockefeller IV

Chairman

U.S. Senate Committee on Commerce, Science, and Transportation

Majority Statement

Senator John D. (Jay) Rockefeller IV

WASHINGTON, D.C.— I want to thank Senator Udall for requesting this hearing, and I further commend him for his tireless work on this subject. Horse racing is a noble sport and an economic driver in West Virginia, and I know many who work in the industry care about the health of their horses.

Unfortunately, the inappropriate use of otherwise therapeutic medication in racehorses has long been a problem that has plagued the sport. Medication such as phenylbuterol or "bute" can legitimately help in the healing process of an ailing horse. But when bute is used to mask pain on an unsound horse so that he or she can race on the track, the drug becomes an abusive practice that puts the life of the horse and jockey at risk. Other drugs, such as cobra venom or demorphine, which is a powerful painkiller recently discovered in over 30 horses in 4 different states and is found on the skin of South American tree frogs, have absolutely no therapeutic value and are used purely to cheat. Any trainer caught using these types of cruel drugs should be banned from the sport.

In 1978, Congress passed the Interstate Horseracing Act into law, and as a result, racetracks around the country have the benefit of simulcasting their racing signals and accepting interstate wagers. Despite bestowing this unique status on the racing industry, Congress did not impose any standards that address the integrity of the sport, nor the welfare of jockeys, horses or fans. This Committee has jurisdiction over the Interstate Horseracing Act and was instrumental in its passage. The law was authored by the former Chairman of this Committee, Senator Magnuson. As the current Chairman of the Commerce Committee, I am prepared to examine whether or not racetracks continue to deserve this unique federal privilege. The federal government is already involved in this issue, and it is perfectly reasonable to expect the industry to adhere to uniform standards that protect jockeys, horses, and racing fans.

I look forward to hearing from our witnesses, and I hope today's hearing begins a constructive dialogue to find solutions to problems that regrettably haunt this very noble sport. Thank you.

###

Senator Tom Udall D-NM

Majority Statement

Senator Tom Udall D-NM

Opening Statement of U.S. Sen. Tom Udall (NM)

Commerce Committee Hearing on Medication and Performance-Enhancing Drugs in Horse Racing

Good afternoon. Thank you all for being here today. I want to first thank Senator Rockefeller and Senator Hutchison for their support in holding this hearing. And also thanks to our distinguished panelists. I look forward to your testimony.

Horseracing has a proud heritage. It is a majestic sport. But, the sport has run off the rails.

The chronic abuse of horses with painkillers and other drugs is just plain wrong. And it is dangerous. An injured horse, feeling no pain, continues to charge down the track. This endangers every horse. It endangers every rider. And, in the long run, it endangers the sport itself.

Unlike other sports, horseracing lacks a commission or league office that can issue uniform rules. State racing commissions routinely impose small fines and short suspensions. There is minimal deterrence. And chronic doping continues unabated.

Meanwhile, horse racing enjoys a privilege that no other sport does: simulcast gambling across state lines.

Congress passed the Interstate Horseracing Act of 1978, the "IHA," to allow betting across state lines for horseracing. This statute was amended in 2000 -- at the request of the racing industry -- to allow Internet and telephone betting. And in 2006, when Congress passed legislation to prohibit online gaming, it granted a special exemption for horseracing.

This year, Americans bet over $130 million in wagers involving the outcome of a single race, the Kentucky Derby. Today, nearly 90 percent of the $11 billion dollars bet annually on horseracing is from off-track wagers permitted by the IHA. Congress should not tolerate doping and cheating in interstate horseracing. But, the record is discouraging. This great sport has reached a terrible level of corruption and exploitation.

In a 2006 federal case involving a thoroughbred trainer with ties to organized crime, a judge ruled that "milk shaking" a horse could constitute wire fraud. Yet this year, thoroughbred racing celebrated a Kentucky Derby and Preakness winning trainer who has racked up numerous medication violations, including 4 for "total carbon dioxide" or "milk shaking".

This year, federal agents raided two tracks in my home state of New Mexico. They arrested trainers with alleged ties to the Sinaloa and Zetas drug cartels. According to a warrant, one of the accused boasted of fixing the 2010 All American Futurity, one of the richest races in the world.

Horseracing used to be the number one spectator sport in America. That's no longer the case. Attendance is down. With the loss of fans comes a loss of revenue. Affecting a $40 billion dollar industry, with 400,000 jobs nationwide. In my home state of New Mexico, horseracing is a $400 million a year industry supporting 10,000 jobs. Jobs are at risk.

Promises of reform have been made, and broken, before. Congress considered legislation in the early 1980s. And industry groups insisted that congressional action was not needed. Well, it was needed then. And over 30 years later, the need has only increased. American horseracing stands apart from the rest of the world. In its permissive medication rules, and in its tolerance for doping.

To tackle these problems affecting this important and historic American industry, Congressman Ed Whitfield and I introduced the Interstate Horseracing Improvement Act. Our legislation will do 3 things:

1) Ban race day medication and horses from racing under the influence of performance-enhancing drugs;

2) Kick the cheaters out of the sport after three violations of the rules; and

3) Require drug testing of race horses by independent labs.

Our bill doesn't create any new federal bureaucracy. It keeps responsibility for enforcing these rules with state commissions. In the absence of adequate enforcement, the Federal Trade Commission could enforce doping violations. And could shut down off-track betting.

Time and again, Congress has passed legislation to expand gambling on horse racing. Now it's time to end the abuse. It's time to restore integrity to this sport. The safety of these majestic animals and their jockeys are at stake. So are jobs, in places like New Mexico. Those who play fair in this sport, should no longer be at the mercy, of those who do not.

So, thank you all again for being here. I am hopeful that we can work together. After 30 years of handwringing and talk, it's time for action. It is time to put American horseracing back on the right track.

###
Testimony
Mr. Barry Irwin

Chief Executive Officer

Team Valor International

Mr. Kent Stirling

Executive Director, Florida Horsemen's Benevolent & Protective Association

Chairman, Medication Committee, National Horsemen's Benevolent & Protective Association

Mr. Jeffrey Gural

Chairman, Newmark Grubb Knight Frank

Chairman and Managing Partner, American Racing and Entertainment, LLC

Mr. Jim Gagliano

President

The Jockey Club
Witness Panel 2
Mr. Matthew Witman

National Director

American Quarter Horse Association

Mr. Marc Paulhus

Former Director of Equine Protection and Vice President

Humane Society

Mr. Ed Martin

President and CEO

Association of Racing Commissioners International

Dr. Sheila Lyons DMV

Founder and Director, The American College of Veterinary Sports Medicine and Rehabilitation

Founder and Director, Homecoming Farm, Inc.