Following hard-fought USWNT equal pay victory, new federal law will ensure Team USA women get the same pay and benefits as men in the same sport
Today, President Biden signed the Cantwell-Capito Equal Pay for Team USA Act into law, ensuring all athletes who represent the United States in global competition – like the World Cup, Olympics and Paralympics – receive equal pay and benefits – regardless of gender.
"Today, the Cantwell-Capito Equal Pay for Team USA Act officially became law," said Sen. Cantwell. "From here on out, when women win, they no longer have to worry that a men's team will still somehow be paid more. This law requires that the U.S. Olympic and Paralympic Committee and sports' governing bodies provide the same pay, medical care, travel accommodations, and coverage of expenses to U.S. athletes regardless of gender – or risk decertification. With President Biden's signature, we're ensuring that when you wear the Team USA logo, you will truly be equal."
"Our Equal Pay for Team USA Act has now become law – ensuring equal compensation for athletes representing our great nation in global competitions. When American athletes compete on the world stage, they represent our great nation, our people, and our values. Therefore, it's only right that female athletes receive the same kind of pay and benefits as their male counterparts, and this legislation does just that. I'm proud to have championed this bipartisan effort, and look forward to the positive impact this will have on our Team USA athletes now that this is the law of the land," Senator Capito said.
Senator Maria Cantwell (D-Wash.) and Senator Shelley Moore Capito (R-W.Va.) first introduced the Equal Pay for Team USA Act in 2019, after the world-champion U.S. Women's National Soccer Team (USWNT) sued for equal pay. In 2022, the senators re-introduced the bipartisan bill, which passed the Committee with unanimous support on June 22, 2022, the eve of the 50th anniversary of Title IX. The bill went on to pass the Senate unanimously on December 8 and passed the House on December 21, 2022 by a substantial margin.
After the House passage, Sen. Cantwell took to the Senate floor to thank the women who led the charge in U.S. Soccer that inspired the momentum of this legislation so all Team USA sports can benefit from equal pay and benefits, saying: "I also want to thank heroes like Megan Rapinoe and Alex Morgan who brought that case against U.S. Soccer. U.S. Women's Soccer led the charge after winning the World Cup and making it clear to everyone that women athletes deserve equal pay."

WATCH Sen. Cantwell on the Senate floor after the House passage of the bill
In September, Sen. Cantwell and Capito joined leaders of U.S. Soccer, USWNT, the U.S. Men's National Soccer Team (USMNT) and Seattle OL Reign player Megan Rapinoe for the signing of historic Collective Bargaining Agreements guaranteeing players are paid equally.
Speaking during the ceremony, Sen. Cantwell said: "My colleague is here tonight. I'm a Democrat from Washington state. She's a Republican from West Virginia. But we are going to use the power of this moment to get national legislation passed so that every young girl in every sport knows that we will have equal pay when it comes to sports in the United States of America. Let's celebrate!"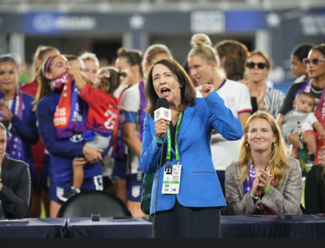 Sen. Cantwell cheering on the first-ever agreement guaranteeing equal pay for top-ranked USWNT players
Before, men and women could be compensated differently for representing Team USA in the same sport. For years there have been stories – from the women's national teams in many sports being paid consistently less, to women's teams flying in coach to games while men's teams sat in business class, and waiting months for medical reimbursements.
The bipartisan Equal Pay for Team USA Law requires that all athletes representing the United States in global athletic competitions receive equal compensation and benefits in their sport, regardless of gender. It also requires equal payment for medical care, travel and expenses.
The bill applies to 50 different sports' national governing bodies, like US Soccer and USA Volleyball, along with the United States Olympic & Paralympic Committee (USOPC). It also requires USOPC to conduct oversight and report on compliance with the legislation.