This Consumer Advocacy Week, hundreds from across the country are meeting with Members to urge action on Consumer Protection Remedies Act
Bill would restore FTC power it used to collect billions in refunds for millions of consumers scammed out of their hard-earned money
WASHINGTON, D.C. – U.S. Sen. Maria Cantwell (D-Wash.), Chair of the Committee on Commerce, Science, and Transportation, rallied hundreds of consumer protection advocates from across the country who are calling on Congress this week to pass the Consumer Protection Remedies Act of 2022 that would restore the Federal Trade Commission's (FTC) power to secure refunds for millions of consumers ripped off by illegal scams, fraud and other unfair, deceptive and anticompetitive practices. In April 2021, the Supreme Court stripped the FTC's "Section 13(b)" authority which it had used to return $11.2 billion owed to consumers in the five years prior to the decision.
"Consumers are losing billions of dollars to scams every year," Sen. Cantwell told hundreds who met last week in preparation for National Consumer Advocacy Week. "This situation is not getting better, it's getting worse. And as the nation's top consumer protection agency, the FTC should be empowered to go to court to refund consumers…"
According to the FTC, since the Supreme Court's April 2021 decision, consumers have reported they've lost more than $7.5 billion to telemarketing fraud, scams and other unfair or deceptive practices.
The Consumer Protection Remedies Act of 2022, introduced by Sens. Cantwell, Ben Ray Lujan (D-N.M.), Amy Klobuchar (D-Minn.) and Rev. Raphael Warnock (D-Ga), was voted out of Committee last May without the support of a single Republican, preventing it from moving quickly to a full Senate vote.
National Consumer Advocacy Week is a yearly event organized by Consumer Federation of America, along with Americans for Financial Reform, Consumer Action, Consumer Reports, National Association of Consumer Advocates, National Consumer Law Center, National Consumers League, Public Citizen and U.S. PIRG. This week, more than 200 participants from 37 states and D.C. are holding hundreds of meetings with elected representatives on behalf of consumers to urge passage of the Consumer Protection Remedies Act.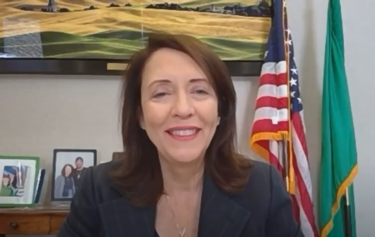 CLICK TO WATCH: Sen. Cantwell speaks to hundreds of consumer advocates to kickoff Consumer Advocacy Week
Sen. Cantwell expressed how important it was to help educate Republican Senators about the critical impact FTC refund authority has had on the pocketbooks of regular Americans: "It's something that was on the books for a long time, but I don't even think my colleagues realize that the FTC lost this capacity. I think they don't understand that it has been one year since last April, and that there are millions and millions of dollars of refunds that consumers aren't getting. So I think if the call is just to restore the refunds, restore consumer refunds, and we just ask all our colleagues if they will fight for that and fight to bring it to the floor for a vote."
"When pharma giant AbbVie delayed consumer access to lower generic drug prices in an alternative called Androgel, the FTC filed a case against AbbVie for unlawful conduct. And although the court awarded the FTC $493 million in refunds to give back to consumers who overpaid for this brand name drug, consumers got nothing back because the court's judgment was vacated due to this previous Supreme Court decision," Sen. Cantwell added. "So please explain to my colleagues that in fighting for fair drug pricing, giving the FTC the ability to get refunds is a critical tool."
"For two years in a row, hundreds of advocates from throughout the country have joined together during Consumer Advocacy Week to underscore the need for Congress to restore the Federal Trade Commission's authority," said Rachel Gittleman, Financial Services Outreach Manager, Consumer Federation of America. "The FTC is the nation's chief consumer protection enforcement agency, but its authority to fight scams and fraud, hold bad actors accountable, and refund wronged consumers has been severely undermined by a Supreme Court decision. Congress must step up for consumers and restore the FTC's authority."
"When the FTC could no longer rely on a law it had used for decades to seek court orders and secure refunds for scammed seniors, veterans, small businesses, and others, it was a huge blow," said Christine Hines, Legislative Director, National Association of Consumer Advocates. "So, it is truly inspiring that fellow advocates across the country have come together to urge their members of Congress to support the Consumer Protection Remedies Act, which will restore this key FTC role."
"A critical goal for Consumer Advocacy Week is to urge Senate passage of Senator Cantwell and others' Consumer Protection Remedies Act (S. 4145), which would restore the FTC's authority not only to stop unfair corporate practices that defraud consumers but also to provide consumer restitution and force bad actors to disgorge ill-gotten gains," said Ed Mierzwinski, Senior Director for Federal Consumer Programs, U.S. PIRG.
Last May, Sen. Cantwell released a Committee report on the implications of the Supreme Court's decision in AMG Capital Management LLC v. FTC that gutted the FTC's authority to seek refunds for consumers in federal court. For over 40 years, the FTC relied on that authority to obtain billions in court-ordered refunds for consumers and small businesses who had lost money to unfair or deceptive acts including telemarketing fraud, business opportunity scams, deceptive advertising and other abuses. The report detailed, state-by-state, the enormous value the FTC's 13(b) enforcement authority has brought to consumers across the country.
S.4145 The Consumer Protection Remedies Act of 2022 would restore the FTC's ability to obtain monetary and other relief for consumers under Section 13(b) of the FTC Act by going directly to federal court. The legislation:
Protects consumers and fosters a fair and honest marketplace by:
Allowing the FTC to go to court and ask the judge to order scammers and lawbreakers to return the money they unlawfully took from consumers and give up their ill-gotten gains so that it is not profitable to break the law.
Permitting the FTC to go to court to seek monetary remedies for consumers who were harmed because of anticompetitive conduct, in addition to unfair and deceptive or other unlawful conduct.
Confirming that the FTC may sue for injunctions and consumer redress for prior conduct, not just ongoing conduct, to stop lawbreakers from reverting back to their unlawful conduct.
Affirms 13(b)'s due process protections with impartial court-ordered redress 13(b) by:
Ensuring that the FTC must argue its case in front of a neutral federal judge, with opportunity to appeal contested decisions through the federal judiciary.
Requiring that refunds or other relief be "in the public interest," as determined by the judge.