U.S. Senator Maria Cantwell (D-Wash.), Chair of the Committee on Commerce, Science, and Transportation, attended today's signing by President Biden of the CHIPS and Science Act of 2022 at a White House ceremony. Sen. Cantwell was a lead architect of the law and successfully rallied a last-minute bipartisan push to secure the inclusion of historic investments in scientific research and development.
"Today marks the start of the turnaround for U.S. chip manufacturing," said Sen. Cantwell. "More than a dozen companies are expected to make announcements in the next few months about expanding the chip supply chain in the United States. America wins and workers win and consumers win because every product dependent on semiconductors – cars, trucks, computers, phones and farm equipment – will start to have a more reliable supply."

"This bill, CHIPS and Science, is expected to help create 280,000 jobs in the United States. We know investing in science and innovation today is jobs tomorrow. America is ready to compete with anybody," she added.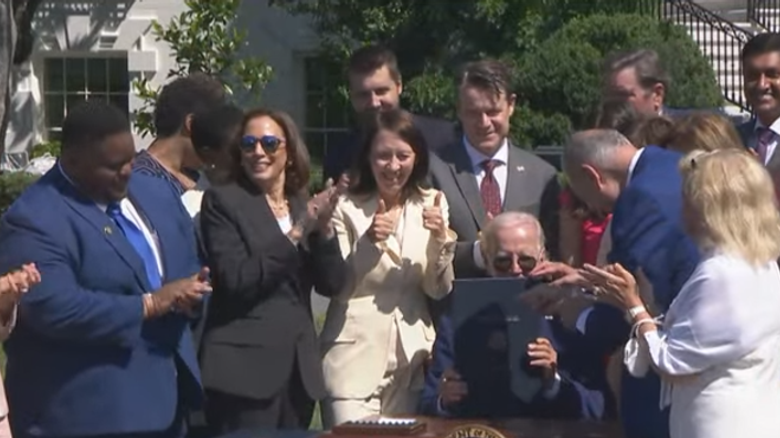 Sen. Cantwell joins President Biden at the White House for the signing of the CHIPS and Science Act
President Biden, Commerce Secretary Gina Raimondo and Senate Majority Leader Chuck Schumer recognized Sen. Cantwell for her leadership as Chair of the Conference Committee and her relentless work to get the bill across the finish line.
"I want to thank everyone here who helped make it possible. Vice President Harris and the Second Gentleman, members of the Cabinet and the White House team, members of the United States Congress of both parties, the Majority Leader, Senators Cantwell, Young, Portman. I don't want to get you in trouble, but you did a hell of a job," said President Biden before he signed the CHIPS and Science Act.
"I want to thank everyone who made signing the Chips bill possible. Our amazing Chair of this Conference Committee, Senator Maria Cantwell of Washington state!" said Senate Majority Leader Chuck Schumer.
"Thank you so much for your commitment and your leadership. And to your chairs, thank you, Chair Cantwell, thank you," said Commerce Sec. Gina Raimondo, who participated in several classified briefings on the national and economic security implications of the chips shortage that were organized by Sen. Cantwell.
Sen. Cantwell chaired the bipartisan Conference Committee on innovation and competition legislation. Following the recent 64-33 Senate passage of the CHIPS and Science Act, Sen. Cantwell led a press conference on what this bill means for Americans, along with Senate Majority Leader Chuck Schumer, Sens. Roger Wicker, Todd Young, Mark Warner, and John Cornyn.