Bipartisan GRID Broadband Act provides federal cost-share to spur investment in fiber communications capacity that can provide affordable broadband to underserved urban, rural, and tribal communities
Last week, U.S. Senator Maria Cantwell (D-Wash.), Chair of the Committee on Commerce, Science, and Transportation, and U.S. Senator Shelley Moore Capito (R-W.Va.), Ranking Member of the Senate Committee on Environment and Public Works, introduced the Grant to Rapidly Invest and Deploy Broadband, or GRID Broadband Act, a pioneering proposal that would provide a robust new federal cost-share to spur investment in a nationwide middle-mile backbone along the nation's existing electricity grid. The goal of this bipartisan initiative is to help provide affordable high-speed Internet options to the 120 million American households that lack connectivity and enhance the resiliency, diversity, and security of America's electrical grid.
"Building out fiber along our nation's existing grid will provide the communications capacity needed to modernize our energy system, make our grid more cybersecure, and bring affordable high-speed internet to tens of millions of hard-to-reach households," said Senator Cantwell. "It's a triple win solution for consumers because it leverages existing rights-of-way and private sector ingenuity and investment to deliver cleaner electricity, stronger cybersecurity, and more accessible broadband services. Almost a century ago, the Rural Electrification Act helped bring power and productivity to every American home and business, now we can piggyback on that success by using the same network to also deliver the data and information America needs to prosper in this century."
"In order to accomplish our goal of bringing reliable, high-speed internet access to every West Virginia community, we need to continue bringing solutions to the table," said Senator Capito. "The GRID Broadband Act would utilize our nation's electric grid system to help build out and deploy broadband, especially in some of the most rural areas of West Virginia with little to no service. Closing the digital divide is a bipartisan priority, and I'm proud to introduce this legislation with Senator Cantwell."
Internet access has become essential to participating in today's digital world—it's the place we go to work, attend school, visit the doctor, and do many other things in our everyday lives. Unfortunately, broadband remains unavailable or too expensive for people to adopt across the country. Data provided by Microsoft shows that approximately 120 million Americans do not access the affordable high-speed internet they need to participate in remote work and education, telehealth, and ecommerce. According to a Pew Research study, 45% of Americans without broadband access cited price among the reasons they did not have broadband service.
In many of these same places where broadband remains out of reach for consumers, utilities are upgrading their infrastructure to make their networks more cybersecure and intelligent through "smart grid" technologies. With the right policies in place, this investment could also be used to provide resilient and broadband networks to help push deployment in unserved and underserved areas. In one case study from Elko, Nevada, additional middle-mile capacity has resulted in prices declining by as much as six times.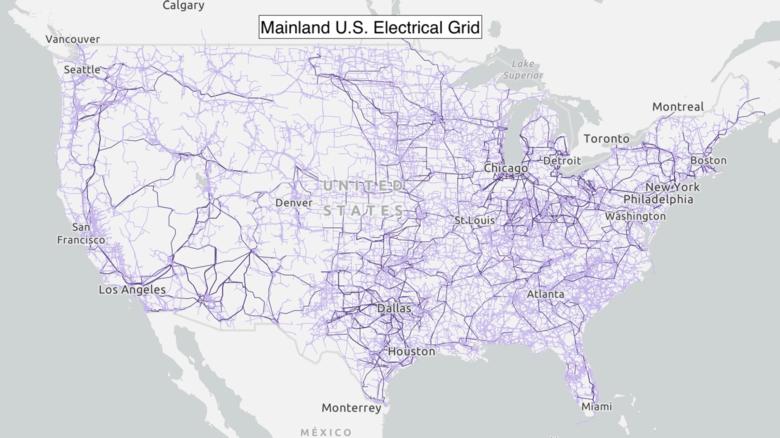 Middle-mile infrastructure connects network hubs with the retail networks (known as last-mile infrastructure) that directly serve homes and businesses. These are critical links, because last-mile broadband speed and reliability is dependent on the middle-mile infrastructure that serves it.
Accordingly, the GRID Broadband Act seeks to leverage these investments to create a triple win that will:
Enable more diverse and distributed energy sources to connect to the grid,
Facilitate more cyber-secure communications capacity, and
Provide ubiquitous middle-mile capacity to drive down broadband costs nationwide and provide new options for underserved communities.
This investment will create thousands of skilled jobs, while enhancing the capacity and resilience of our critical networks, reducing costs to providers and consumers, and setting the stage for sustained long-term economic growth.
Under the GRID Broadband Act, the Department of Commerce's National Telecommunications and Information Administration is charged with issuing competitive cost-shared federal grants to encourage the rapid development of a secure, nationwide broadband backbone on existing electric grid infrastructure. Recipients of GRID Broadband awards must use the funding to improve cybersecurity and smart grid technology on their electrical grid infrastructure, as well as increase middle-mile broadband capacity. Grant recipients must cover at least half of project costs, except for a qualifying not-for-profit utility or Native entity that is providing access to underserved or unserved communities.
View the GRID Broadband Act bill text HERE.
The GRID Broadband Act is supported by a broad coalition of public and private utilities and public interest groups.
"Edison Electric Institute commends Senators Cantwell and Capito for prioritizing fiber investments that will help close the digital divide, ultimately benefiting all Americans. The GRID Broadband Act will provide resources to help accelerate the deployment of fiber that will provide additional flexibility to grid operators in the event of extreme weather. It will also improve cybersecurity and resilience, and will help with the further integration of renewable and energy storage technologies. Additionally, these fiber investments will significantly boost opportunities for electric companies to build out middle-mile broadband infrastructure, creating jobs and connecting underserved and unserved customers." – Tom Kuhn, President, Edison Electric Institute
"Building out middle-mile broadband infrastructure is a critical step that will serve two important purposes: enhancing the resiliency of the electric grid and connecting rural communities to high-speed internet service. These efforts are crucially important as the American economy increasingly relies on electricity and web-based businesses to fuel the future. We thank the committee for spotlighting these important issues." – Louis Finkel, Senior Vice President, National Rural Electric Cooperative Association
"I commend Senator Maria Cantwell, chair of the Senate Committee on Commerce, Science and Transportation (Commerce Committee), for her leadership in introducing the Grants to Rapidly Invest and Deploy Broadband Act of 2022 (GRID Broadband Act of 2022). This legislation will be the catalyst for urgently needed middle mile deployment by electric utilities. I applaud the ambitious goals defined in the GRID Broadband Act of 2022 as it will provide resilient and redundant middle mile fiber optic infrastructure, enhance the resilience, reliability, and security of the electric grid, and reduce the cost of high-speed broadband across the United States. By funding utility fiber deployment, the GRID Broadband Act will support utility operations and promote broadband access, which will stimulate new economic growth opportunities for unserved and underserved communities. UTC supports Senator Cantwell for her unwavering support of and direction on this crucial issue. I believe that this legislation will facilitate the high-capacity infrastructure required to support robust, sustainable, and affordable connectivity for grid modernization and zero carbon initiatives, broadband access, as well as 5G/6G backhaul. UTC is looking forward to working collaboratively and constructively with Senator Cantwell and the members of the Commerce Committee on both sides of the aisle." – Sheryl Osiene-Riggs, President and CEO, Utilities Technology Council
"Middle mile connections are the backbone of the internet, because they not only enable connections to households and businesses, but also can promote reliability and help make broadband more affordable. Unfortunately, many communities lack middle mile connections. We appreciate Senator Cantwell's leadership to bring these connections to the rural, Tribal, and low-income communities that need them." – Jenna Leventoff, Senior Policy Counsel, Public Knowledge
"WISPA – Broadband Without Boundaries thanks Chairwoman Cantwell and Senator Capito for recognizing the important role small fixed wireless providers play in closing the digital divide and for working with us to ensure our members can gain access to the middle mile infrastructure this legislation authorizes. WISPA's members are connectivity first responders, and this legislation gives them additional tools to get the job done." – David Zumwalt, President and CEO, WISPA Wireless Internet Service Providers Association - Broadband Without Boundaries
"The Washington Public Utility Districts Association supports this novel effort as a mechanism to bring connectivity technologies to our state and around the nation. Connectivity is a key driver in our efforts to bring sustainable, reliable and affordable energy to our communities in addition to allowing access to the internet to our unserved and underserved communities. We want to thank Senator Cantwell for her continuing efforts and look forward to providing our support." – George Caan, Executive Director, Washington PUD Association.