Cantwell-championed legislation marks a major commitment to investing in U.S. research, development, and innovation
WASHINGTON, D.C. — Today, U.S. Senator Maria Cantwell (D-Wash.), Chair of the Senate Committee on Commerce, Science, and Transportation spoke on the Senate floor immediately before the Senate passed its version of bipartisan innovation legislation, the United States Innovation and Competition Act (USICA), setting the stage for a conference where Senate and House negotiators will work to find agreement on a final bill. The amended bill passed the Senate 68-28.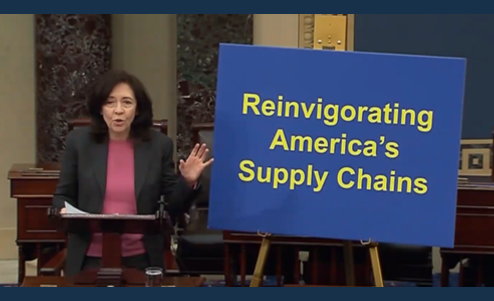 Specifically, the Senate voted 68-28 to substitute the text of H.R. 4521, the America COMPETES Act of 2022, with the text of the Senate's U.S. Innovation and Competition (USICA) of 2021. It then voted 68-28 to approve the amended bill, sending it back to the House. The House is expected to reject the substituted legislation and request a Senate and House conference to reconcile the differences.
Sen. Cantwell has repeatedly called for Congress to act on bipartisan legislation. Last Thursday, she spoke on the Senate floor about the impact the semiconductor supply chain shortage is having on the price of used cars. The senator also chaired a Commerce Committee hearing with tech CEOs on the importance of CHIPS legislation, to invest in America's domestic semiconductor manufacturing. Previously, Sen. Cantwell joined Majority Leader Schumer at a press conference and delivered remarks on the Senate floor about the urgency to appoint a conference committee to resolve differences between the House and Senate bills.
###