WASHINGTON, D.C. — Earlier today, President Biden and Commerce Secretary Raimondo met with executives of several companies to discuss the importance of legislation to boost semiconductor production, calling on Congress to pass bipartisan innovation and competitiveness legislation "as soon as you can." U.S. Senator Maria Cantwell (D-Wash.), Chair of the Committee on Commerce, Science, and Transportation, has been pushing for conference action on USICA, which passed the Commerce Committee last summer, and the House bill, COMPETES, including in a floor speech on February 10, 2022.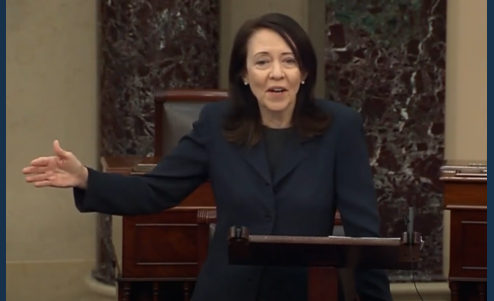 Key quotes:
"Other countries definitely aren't waiting. I guarantee you that they are making investments in innovation and technology. And where we are in the United States is we are at a 45-year low in the amount of investment in R&D against our GDP.
"So we're not keeping pace. And many times, I've been out on the floor here talking about why we're not keeping pace.
"We can't wait. The essence of acting now, getting together, communicating with our colleagues, working to together in a collaborative spirit is what is going to get this legislation over the goal line and help us.
"It has been projected that chip shortage cost the global auto industry in 2021 $210 billion in revenue and a loss of production of 7.7 million cars.
"We have eight plants that are going to shut down because they don't have chips. And we're going to sit around and wait for another three or four weeks before we go to conference to resolve these issues?
So leadership can't wait. It can't wait.
"Fortunately, the United States is showing that we can respond. And we in the Senate did pass legislation. And now we have an opportunity to go to conference and work with our colleagues.
"But some people want to wait another three weeks or four weeks to do that. I don't want to wait, Madam President, I don't want to wait another second.
"The competitiveness of U.S. manufacturers who are competing on an international basis to receive the investments that we make in technology just can't wait…
"But the people who want to hold up and don't want to move forward, I would ask them to think about our competition, who are working very hard on beating us at semiconductors and the issues that it represents as it relates to the investments we should be making.
"I want us to make the investments in semiconductors. I want us to make the investments in manufacturing extension programs, in STEM education, in tech hubs, and making sure that United States of America maintains its leadership role."
The floor speech transcript is available here.
Video of Cantwell's floor speech is available here.