Following hard-fought USWNT equal pay victory, new federal law will ensure Team USA women get the same pay and benefits as men in the same sport
WASHINGTON, D.C. – Following unanimous passage last week by the U.S. Senate, tonight the U.S. House passed the bipartisan Equal Pay for Team USA Act, landmark legislation to ensure all athletes who represent United States in global competition – like the World Cup, Olympics and Paralympics – receive equal pay and benefits – regardless of gender. The bill now heads to the President's desk.
Senator Maria Cantwell (D-Wash.), Chair of the Senate Committee on Commerce, Science and Transportation, and Senator Shelley Moore Capito (R-W.Va.) first introduced the Equal Pay for Team USA Act in 2019, after the world-champion U.S. Women's National Soccer Team (USWNT) sued for equal pay. In 2022, the senators re-introduced the bipartisan bill, which passed the Committee with unanimous support on June 22, 2022, the eve of the 50th anniversary of Title IX. The legislation passed the full Senate with unanimous support on December 8, 2022
"The Equal Pay for Team USA Act erases any ambiguity, setting the standard that – when it comes to pay, medical care, travel arrangements and reimbursement of expenses for players of the same sport – nothing short of equal is acceptable, regardless of gender," Sen. Cantwell said following House passage. "I'm grateful for the group of women athletes who – at the top of their game – raised their voices to demand equal pay for their success. With today's victory, this monumental, bipartisan legislation is headed to the president's desk, sending an unequivocal message to all young women and girls who dream of a future in sports: you deserve equal pay and it will be the law of the land."
"Today, our Equal Pay for Team USA Act came one step closer to becoming law and ensuring equal compensation for athletes representing our great nation in global competitions. When American athletes compete on the world stage, they represent our great nation, our people, and our values. Therefore, it's only right that female athletes receive the same kind of pay and benefits as their male counterparts, and this legislation does just that. I'm proud to support this bipartisan effort, and thank my colleagues in the House of Representatives for their help in moving our legislation forward," Sen. Capito said.
Listen to Sens. Capito and Cantwell calling for Congress to pass this bill
"U.S. women have been at the forefront of the modern Olympic and Paralympic movements for more than 120 years. Female Olympians and Paralympians have trained, excelled, and inspired generations of girls. The Equal Pay for Team USA Act will build upon the USOPC's established commitment to parity in its support of female and male athletes competing on behalf of the United States, and it will help America continue to lead in advancing equality and opportunity in international sport," said Sarah Hirshland, CEO of the United States Olympic & Paralympic Committee.
"By sending this legislation to the President, both houses have sent a clear message that this is the standard for all National Teams in all sports and it underscores the importance of working with our athletes to achieve equal pay including equalizing international prize money," said Cindy Parlow Cone, President of the U.S. Soccer Federation. "U.S. Soccer is excited to continue to lead on equal pay and we look forward to helping drive more progress in the future."
In September, Sen. Cantwell and Capito joined leaders of U.S. Soccer, USWNT, the U.S. Men's National Soccer Team (USMNT) and Seattle OL Reign player Megan Rapinoe for the signing of historic Collective Bargaining Agreements guaranteeing players are paid equally.
Speaking during the ceremony, Sen. Cantwell said: "My colleague is here tonight. I'm a Democrat from Washington state. She's a Republican from West Virginia. But we are going to use the power of this moment to get national legislation passed so that every young girl in every sport knows that we will have equal pay when it comes to sports in the United States of America. Let's celebrate!"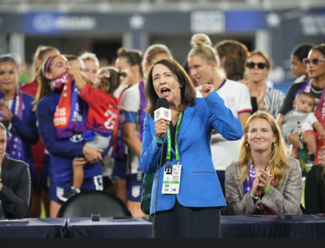 Sen. Cantwell cheering on the first-ever agreement guaranteeing equal pay for top-ranked USWNT players
Currently, men and women can be compensated differently for representing Team USA in the same sport. For years there have been stories – from the women's national teams in many sports being paid consistently less, to women's teams flying in coach to games while men's teams sat in business class and waiting months for medical reimbursements.
The bipartisan S.2333 Equal Pay for Team USA Act requires that all athletes representing the United States in global athletic competitions receive equal compensation and benefits in their sport, regardless of gender. It also will require equal payment for medical care, travel and expenses.
The bill applies to 50 different sports' national governing bodies, like US Soccer and USA Volleyball, along with the United States Olympic & Paralympic Committee (USOPC). It also requires USOPC to conduct oversight and report on compliance with the legislation.
30 Organizations Support the Equal Pay for Team USA Act:
Alliance of Social Workers in Sports
American Volleyball Coaches Association
Athlete Ally
Center for Sport, Peace & Society – University of Tennessee
Champion Women
Equality League
Geena Davis Institute for Gender in Media
National Interscholastic Athletic Administrators Association
National Organization for Women
National Women's Law Center
Sports Fans Coalition
The Female Quotient
The Tucker Center – University of Minnesota
Trajectory Women
UltraViolet
UN Women
US Olympic and Paralympic Committee
US Soccer
US Squash
USA Curling
USA Volleyball
USA Water Ski & Wake Sports
Voice in Sport
Voice in Sport Foundation
Washington Spirit Women's Soccer Team
West Virginia University Women's Soccer Team
Women Win
Women's Basketball Coaches' Association
Women's Sports Foundation
Wrestle Like a Girl
Additional high-quality photos from the U.S. Soccer event and videos of Sens. Cantwell and Capito calling for passage of the bill can be found here.