Chairman strongly advocated for U.S. investments in innovation and initiatives to strengthen nation's manufacturing sector during today's markup
April 9, 2014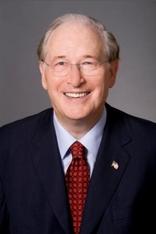 WASHINGTON, D.C.—Chairman John D. (Jay) Rockefeller (D-WV) and Senator Sherrod Brown (D-OH) today released the following statements after the U.S. Senate Committee on Commerce, Science, and Transportation passed S. 1468, the Revitalize American Manufacturing and Innovation Act of 2013, which seeks to strengthen collaborations between the government and the manufacturing sector. The legislation now awaits action by the full Senate.
"Today's action means we're one step closer toward increasing our support for American innovation and manufacturing. We must continue to invest in programs that help transform the brilliant scientific discoveries currently taking place in university laboratories into real-world applications on the factory floor," said Rockefeller. "With this bill, we can bridge the gap from basic research to manufacturing that has doomed so many promising inventions before they're able to reach the market. Senator Brown has been relentless in his support for workers and the manufacturing industry, and I thank him for all his work on this bill. I also want to thank Ranking Member Thune for his support. Now, it's time for the full Senate to act on this legislation that will create jobs and boost our economy."
"Our workers can compete against anyone in the world," Brown said. "Establishing a National Network of Manufacturing Innovation would create thousands of jobs and ensure the United States remains the global leader in advanced manufacturing. I thank Chairman Rockefeller, Ranking Member Thune, and the entire Commerce Committee for supporting this bipartisan legislation and helping it take another step towards becoming law."
Background:
The Revitalize American Manufacturing and Innovation Act of 2013 would create a network of regional hubs that would solve common manufacturing problems for businesses and researchers in that field. The National Network for Manufacturing Innovation (NNMI), within the U.S. Department of Commerce, has already begun creating the regional hubs.
The first hub created is a pilot project in Youngstown, Ohio, and it operates with the support of federal seed money and funding from a number of businesses, organizations, and universities in Ohio, Pennsylvania, and West Virginia. Additional hubs have been announced for Detroit, MI; Chicago, IL; and Raleigh, NC. S. 1468 is sponsored by Senators Brown and Roy Blunt (R-MO).
Rockefeller chaired a Senate Commerce Committee hearing in November 2013 titled, "The Role of Manufacturing Hubs in a 21st Century Innovation Economy," which explored ways that government and industry can collaborate to both foster innovation and strengthen the manufacturing sector. Witnesses included Secretary of Commerce Penny Pritzker; Michael Garvey, President and CEO of M-7 Technologies, a small manufacturer based in Ohio, which is working with the Youngstown NNMI hub; and, Eric Speigel, the president and CEO of Siemens, which is donating $440 million in state-of-the-art software and training to support the Youngstown NNMI hub.
The Committee's push to strengthen manufacturing coincides with Rockefeller's efforts to boost federal investments in research and development – specifically in areas that have led to major breakthroughs and have the potential to create jobs in the global economy. Rockefeller is a strong supporter of the America COMPETES Act, which funds government research and development initiatives that are critical to maintaining the country's global advantage in these important areas. Last November 2013, Rockefeller held a hearing on reauthorization of the America COMPETES Act.
List of supporters for S. 1468:
Associations/Organizations
1.

Aerospace Industries Association
2.

Alliance for American Manufacturing
3.

America's Natural Gas Alliance (ANGA)
4.

American Association of Community Colleges
5.

American Automotive Policy Council (AAPC)
6.

American Chemistry Council
7.

American Iron and Steel Institute
8.

American Small Manufacturers Coalition
9.

American Society for Engineering Education
10.

ASME (founded as American Society of Mechanical Engineers)
11.

Association of American Universities (AAU)
12.

Association of Public and Land-Grant Universities (APLU)
13.

Alliance of Automobile Manufacturers
14.

Business Roundtable
15.

Center for Innovative Food Technology
16.

Cincinnati Chamber of Commerce
17.

Columbus Chamber of Commerce
18.

Columbus Partnership
19.

Dayton Development Coalition
20.

Dayton Region Manufacturers Association
21.

Delaware BioScience Association
22.

Delaware Manufacturing Extension Partnership
23.

Edison Welding Institute (EWI)
24.

Forging Industry Association
25.

Global Automakers
26.

Information Technology & Innovation Foundation (ITIF)
27.

Jordan Valley Innovation Center
28.

Maine Manufacturing Extension Partnership (Maine MEP)
29.

Manufacturing Advocacy and Growth Network (MAGNET)
30.

Mayor Michael Coleman, Columbus, OH
31.

Mayor Nan Whaley, Dayton, OH
32.

Medical Device Manufacturers Association
33.

Missouri Association of Manufacturers
34.

Missouri Biotechnology Association
35.

Missouri Economic Development Council
36.

Missouri Enterprise
37.

Motor & Equipment Manufacturers Association (MEMA)
38.

National Association of Manufacturers
39.

National Composites Center
40.

National Modeling and Simulation Coalition
41.

National Tooling and Machining Association (NTMA)
42.

The New England Council
43.

Ohio Aerospace Institute
44.

Ohio Association of Community Colleges
45.

Ohio Fuel Cell Coalition
46.

Ohio Manufacturers' Association
47.

The Optical Society
48.

Precision Metalforming Association (PMA)
49.

PolymerOhio, Inc.
50.

Saint Louis Economic Development Partnership
51.

Semiconductor Equipment and Materials International (SEMI)
52.

Semiconductor Industry Association (SIA)
53.

Society for Modeling & Simulation International
54.

Southern Ohio Diversification Initiative
55.

Springfield Area Chamber of Commerce
56.

TechColumbus
Companies
57.

Alcoa
58.

ANSYS
59.

Applied Materials
60.

Appvion
61.

AT&T
62.

Autodesk
63.

BAE Systems
64.

Ball Corporation
65.

BASF Corporation
66.

Battelle Memorial Institute
67.

Boeing
68.

Brewer Science
69.

Caterpillar Inc.
70.

Corning
71.

Delphi Automotive
72.

DJW Technology
73.

Dow Chemical
74.

Dupont
75.

Eastman Chemical Company
76.

First Solar
77.

GE
78.

Goodyear
79.

Graftech
80.

Honda
81.

Honeywell
82.

IBM
83.

Intel
84.

Libbey Glass
85.

Lockheed Martin Corporation
86.

Navistar
87.

New Balance
88.

Nucor
89.

Owens Illinois
90.

Proctor & Gamble
91.

Raytheon
92.

Rockwell Automation
93.

Siemens
94.

Silfex, Inc. and Lam Research Corporation
95.

Smiths Group
96.

SRC Holdings Corp.
97.

SunEdison
98.

TechSolve
99.

Texas Instruments
100.

United States Steel Corporation
101.

United Technologies
102.

Volkswagen
103.

Whirlpool
104.

Xerox
Education
105.

Carnegie Mellon University
106.

Case Western Reserve University
107.

Cincinnati State Technical & Community College
108.

Delaware Technical Community College
109.

Eastern Gateway Community College
110.

George Mason University
111.

Georgia Institute of Technology
112.

Indiana University
113.

Miami University
114.

North Central State College
115.

Northwest State Community College
116.

The Ohio State University
117.

Ohio University
118.

Ohio University Innovation Center
119.

Ozark Technical Community College
120.

Rochester Institute of Technology
121.

Stark State College
122.

University of California – Berkeley
123.

University of California – Irvine
124.

University of Cincinnati
125.

University of Colorado-Boulder
126.

University of Illinois
127.

University of Michigan
128.

University of Missouri
129.

University of New Hampshire
130.

University of North Carolina at Charlotte
131.

University of Notre Dame
132.

University of Southern California
133.

University of Tennessee – Knoxville
134.

University of Toledo
135.

University of Wisconsin – Madison
136.

University of Wisconsin System
137.

Washington State Community College
138.

Youngstown State University
139.

Zane State College
###