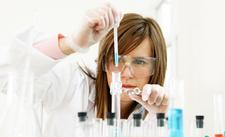 WASHINGTON, D.C. — Chairman John D. (Jay) Rockefeller IV today reintroduced legislation to strengthen the criminal justice system, by prioritizing scientific research and supporting the development of science-based standards in the forensic disciplines.
Rockefeller's bill, The Forensic Science and Standards Act of 2014, aims to bolster forensic science reform efforts and to maintain long-term cooperation between scientists, the legal community, law enforcement, forensic practitioners, and advocacy groups.
"We're making real progress toward strengthening forensic science, but more must be done," said Rockefeller. "My bill would formalize collaboration between scientists and the criminal justice system, which is the only way to put our forensic evidence standards on a solid scientific footing. This important work will help convict the guilty and protect the innocent."
The Forensic Science and Standards Act of 2014 continues Rockefeller's work from a related 2012 bill introduced in response to the 2009 National Academies report, Strengthening Forensic Science in the United States: A Path Forward. The report found that the interpretation of forensic evidence can be severely compromised by the lack of supporting science and standards.
Since the report's release, Rockefeller has focused on supporting basic research in forensic science and on improving standards of practice. Rockefeller has convened three Commerce Committee hearings to highlight the need for scientific research, for enforceable national standards, and for Federal government leadership to validate and standardize forensic disciplines nationwide. The recently established National Commission on Forensic Science implements a provision in Rockefeller's original bill, which calls for the creation of this entity.
A wide range of organizations have supported the need for basic research and standards development in the forensic sciences. Reform advocates have included the Innocence Project; the National Association of Medical Examiners (NAME); the American Statistical Association (ASA); the National Association of Criminal Defense Lawyers (NACDL); and the National Association for the Advancement of Colored People (NAACP), which is particularly concerned about the potential for bias in the criminal justice system.
To implement needed reforms, the Forensic Science and Standards Act of 2014 would:
Require standards development: NIST would be directed to develop forensic science standards in consultation with standards development organizations and forensic science stakeholders. NIST would also be permitted to establish and solicit advice from discipline-specific expert working groups to identify standards development priorities and opportunities.
Implement uniform standards: The bill would direct a national commission on forensic science – chaired by the Director of NIST and the Attorney General and comprised of research scientists, forensic science practitioners, and legal and law enforcement professionals – to recommend new science-based standards. It would also require the Attorney General to implement these standards in Federal forensic science laboratories and to encourage standards adoption in non-Federal laboratories.
Promote research: A National Forensic Science Coordinating Office would be established to develop a forensic science research strategy and to support the implementation of that strategy across relevant Federal agencies. The National Science Foundation would be directed to support forensic science research and the creation of forensic science research centers. All agencies with equities in forensic science would be encouraged to stimulate innovative and creative solutions to satisfy the research needs and priorities identified in the research strategy.
###