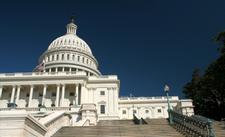 WASHINGTON, D.C.— Chairman John D. (Jay) Rockefeller IV today is asking the Port Authority of New York and New Jersey to answer for an unannounced closure in September 2013 of a major access point to the George Washington Bridge, which spans the Hudson River and connects New Jersey and New York City. Rockefeller was alarmed by the agency's sudden action and its subsequent consequences on interstate commerce and safety, and believes it further highlights his concerns about a lack of oversight at the Port Authority.
"Unwarranted lane closures with no public notice can have serious ramifications on interstate commerce and safety in the region, and as the Committee with oversight responsibility of the Port Authority, I continue to have serious concerns about the actions of this agency. The gravity of this situation demands a comprehensive investigation," Rockefeller wrote. "It also exacerbates my concerns with the governance and previous oversight of the Port Authority."
Rockefeller also wrote to Transportation Secretary Anthony Foxx today. In the letter, he urged the Department of Transportation (DOT) to use their oversight authority to fully review this incident and provide an overview of the steps DOT can take, or the authority it needs, to prevent this type of incident from happening in the future.
###