Vice President Biden, Secretary Napolitano, Attorney General Holder, Chairman Genachowski, Governor O'Malley among participants
June 14, 2011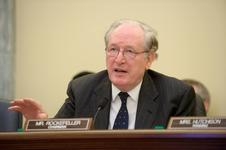 WASHINGTON, D.C.—Chairman John D. (Jay) Rockefeller IV praised the Administration today on its plans to host a White House meeting on Thursday with national, state and local public safety representatives on the need to provide first responders with the first ever nationwide, interoperable communications network.
"I know the Vice President feels as strongly as I do that giving our public safety officials the tools they need to do their job better should be our top priority," said Chairman Rockefeller. "With the 10 year anniversary of 9/11 approaching we are closer than ever. Last week my Committee voted overwhelmingly in favor of bipartisan legislation to advance this issue. My hope is that this meeting and efforts by other leaders on this will help get the Public Safety Spectrum and Wireless Innovation Act to the Senate floor for a vote. For the men and women who risk their lives running into burning buildings and chase down criminals each day without hesitation, we need to get this done."
On Wednesday, June 8th, 2011 Chairman Rockefeller and Ranking Member Kay Bailey Hutchison led their colleagues in approving S. 911, the Public Safety Spectrum and Wireless Innovation Act, by a vote of 21-4. The bill would fulfill one of the last major recommendations of the 9/11 Commission by deploying a nationwide, interoperable broadband network for first responders.
Key Provisions of the Public Safety Spectrum and Wireless Innovation Act:
Establish a framework for the deployment of a nationwide, interoperable, wireless broadband network for public safety.
Allocate 10 megahertz of spectrum, known as the "D-block," to public safety.
Allow public safety officials, when not using the network, to lease capacity on a secondary basis to non-public safety entities in order to help support the network.
Provide the FCC with incentive auction authority, which allows existing spectrum licensees to voluntarily relinquish their airwaves in exchange for a portion of the proceeds of the commercial auction of their spectrum. This provides new incentives for efficient use of spectrum. In addition, the funds from these incentive auctions, in conjunction with funds from the auction of other specified spectrum bands, and funds earned from leasing the public safety network on a secondary basis, will be used to fund the construction and maintenance of the nationwide, interoperable, wireless broadband public safety network.
Direct the National Science Foundation and the National Institute of Standards and Technology to conduct cutting edge research into transformative wireless technologies.
Surplus revenue from spectrum auctions, estimated to be more than $10 billion, will be directed to the U.S. Treasury for deficit reduction.
###