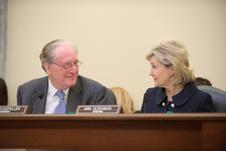 WASHINGTON, D.C.—Chairman John D. (Jay) Rockefeller IV and Ranking Member Kay Bailey Hutchison today authored an op-ed in the Houston Chronicle on the urgent need to provide America's first responders with a nationwide wireless network to help them do their job. Rockefeller and Hutchison are leading the charge in the Senate to pass legislation, the Public Safety Spectrum and Wireless Innovation Act, which would create a nationwide, interoperable public safety broadband network recommended by the 9/11 Commission.
The op-ed follows:
On Sept. 11, 2001, our nation's first responders charged into the burning Twin Towers with little to guide them but instincts and courage. In the midst of the most violent and broad-scale attack on American soil since Pearl Harbor, emergency personnel and safety officials did not have access to the right tools—like an interoperable communications network—that could have helped to save lives.
Nearly 10 years later, we live in a post-9/11 world marked by a national mindset of vigilance and substantially strengthened homeland security efforts. Unfortunately, our platform for modern public-safety communications remains stuck in the past. In fact, construction of a nationwide interoperable wireless network for first responders is one of the last outstanding recommendations of the 9/11 Commission.
After careful thought and deliberate negotiations, incorporating the valuable feedback of public safety officials and the wireless industry, we have come up with a framework to meet this national challenge, without costing taxpayers a dime. Our bill, S. 911, would lay the groundwork for building a nationwide public safety communications infrastructure—and it would do so in a forward-looking and financially responsible way, while also putting in place an effective and accountable governance structure.
In order to generate the revenue to fully offset the cost of construction of the public safety network, the bill allows broadcasters and other licensees of our airwaves to voluntarily remit back unwanted spectrum, which is used to transmit TV, radio and Internet signals. The freed-up spectrum would be re-auctioned for commercial wireless broadband use in exchange for a portion of the proceeds through incentive auctions. These incentive auctions could clear as much as 120 megahertz of spectrum for new wireless broadband services, which could raise more than $28 billion in auction proceeds for the government. Further, our bill directs the Federal Communications Commission to auction at least 120 MHz of government spectrum suitable for commercial wireless broadband services and to allocate another 120 MHz for unlicensed uses, resulting in substantial innovation and hundreds of billions of dollars in economic growth.
Under our proposal, a critical band of high-quality spectrum, known as the "D block," will be allocated to public safety and paired with other public-safety spectrum to establish the nationwide public-safety broadband network. The Congressional Budget Office estimates that this will cost approximately $3 billion, which will be covered by funds raised by incentive auctions. Twelve billion dollars in proceeds will be used to deploy and maintain the public safety network. Additional funds will support high technology research and development. Excess funds—to the tune of $10 billion—will go toward deficit reduction. This legislation is efficient and cost-effective in that it utilizes our nation's valuable resources without requiring any additional taxpayer dollars.
The bill establishes a streamlined nonprofit corporation to build and oversee the wireless public safety network and to ensure it will seamlessly operate nationwide. This entity will leverage existing infrastructure to hold down costs. Its structure and management will be modeled after commercial wireless carriers in order to efficiently build the nationwide network. The corporation will utilize contracts with commercial vendors to build, operate and maintain the network. There is a robust structure in place to ensure significant input from state and local public-safety entities as well as oversight by the federal government. The corporation will be led by a board of directors that includes private sector, public safety and state and local expertise. Most importantly, this governance structure is designed to be self-sustaining, so it will not require funding through annual appropriations.
Our government has not always allocated precious spectrum wisely, nor has it always managed existing spectrum allocations efficiently. A shortsighted approach will create new challenges in the future. That is why we worked hard to make sure our proposal is comprehensive and forward-looking.
Finally, because our bill takes a broad approach that will free up considerable spectrum for commercial use in the next few years, it will be an economic driver. Over the long term, it will help the government allocate and manage spectrum more efficiently. Ultimately, this should produce as much as $400 billion in new economic activity through licensed and unlicensed uses of spectrum, a predictable supply of new spectrum, and important new research and development activities.
We believe we have come up with a balanced piece of technology legislation that will cost taxpayers nothing and, most importantly, will finally bring our nation's public safety system into the 21st century. Everything Congress does should emphasize fiscal responsibility and government efficiency, and we have made those imperatives a centerpiece of our proposal. We look forward to working with our colleagues and all stakeholders to pass this common-sense, bipartisan bill by the 10-year anniversary of 9/11.
Senator Rockefeller (D-W.Va.) is Chairman of the U.S. Senate Committee on Commerce, Science, and Transportation; Senator Hutchison (R-Texas) is Ranking Member of the Committee.
###