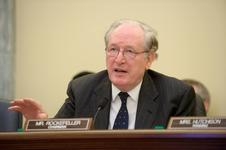 WASHINGTON, D.C.—I'd like to thank everyone for joining us for this hearing and to welcome you to Charleston. I'd also like to extend my welcome to those joining us at each satellite location across West Virginia.
West Virginians have delivered a consistent message to me in every meeting, phone call, letter, or event: jobs are a top priority. From constituents in Whitesville to Weirton, and from Barboursville to Berkeley Springs—and everywhere in between—I am hearing the same message with the same urgency.
I have talked with traditional manufacturers and high tech companies, as well as workers at all stages of production. This economy has hurt West Virginia, and there is one way out: more jobs. In order for our economy to recover, we must do whatever it takes to bring new, solid, middle class jobs to this state.
I have also been listening to the many West Virginians who have proposed solutions. One potential solution keeps coming up: increase exports. Many West Virginians have told me that while it is important to bring new companies into the state, the fastest way to bring good jobs is to expand the companies we already have. West Virginia companies can grow if we increase our customer base. If we export our goods to more countries and find more customers abroad, our companies will grow and more workers will be hired.
Let me be clear. West Virginia companies have done an impressive job of promoting their products abroad, but there is always room for growth. We have great companies, with the best and most productive workers in the country. And we build products that consumers across the world want to buy. We just need to connect the right companies with the right buyers. That can often be complicated and challenging.
This is an area in which the federal government has a lot to offer growing companies. With U.S. trade representatives in more than 75 embassies around the world, the federal government has expertise and knowledge about consumers worldwide and has a strong record of connecting American manufacturers with foreign buyers. Through the newly announced CommerceConnect program, the Department of Commerce is establishing "one stop" shops designed to assist manufacturers that are looking to grow.
Additionally, the government has an important role to play to protect companies from unfair trade practices and to enforce trade laws. Selling products abroad should never mean giving up trade secrets or allowing other countries to unfairly dump their products in the United States. We have agency representatives here that can discuss the ins and outs of exporting and the government's trade enforcement role.
I called this hearing to highlight opportunities for expansion and job creation here in West Virginia. As the Chairman of the Commerce Committee, I have been focused on increasing exports and promoting ways to revitalize American manufacturing. I am looking into everything from tax proposals to reforming the Department of Commerce. Most importantly, I am eager for any new ideas that West Virginia businesses think might solve the major barriers to becoming more successful, exporting more, and hiring new employees. If you have ideas, I want to hear them. Write to my office, and I'll make sure your ideas are a part of the official record.
The Commerce Committee has already brought together key government and industry leaders to discuss and implement solutions for U.S. manufacturing. This is just the beginning of our work. It will not stop until we have a set of policies in place that put American workers and manufacturers first.
The West Virginia manufacturing community and the agencies that are represented here will build an even stronger working relationship after today. Boosting our manufacturing sector and creating jobs will require innovation and collaboration, and the momentum we create today will help us build a better economy tomorrow.
###