Pro-Consumer Groups Say Rockefeller Bill Will Protect Them Online
May 9, 2011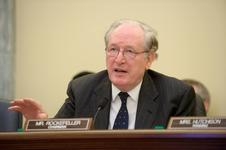 WASHINGTON, D.C.—Senator John D. (Jay) Rockefeller IV, Chairman of the U.S. Senate Committee on Commerce, Science, and Transportation, today introduced S.913, the Do-Not-Track Online Act of 2011, a bill to give consumers the ability to opt out of having their online activities tracked by Internet companies.
"Recent reports of privacy invasions have made it imperative that we do more to put consumers in the driver's seat when it comes to their personal information," said Rockefeller. "I believe consumers have a right to decide whether their information can be collected and used online. This bill offers a simple, straightforward way for people to stop companies from tracking their movements online."
Chairman Rockefeller's bill has garnered wide support from several consumer protection groups, including: the American Civil Liberties Union, Consumer Federation of America, Consumers Union, Electronic Frontier Foundation, Privacy Rights Clearinghouse, Consumer Watchdog, Consumer Action, and the Center for Digital Democracy.
###