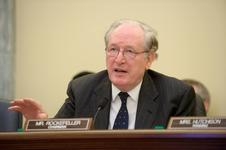 WASHINGTON, D.C.—Welcome to today's hearing. Manufacturing has been and will continue to be a focus of this Committee for a simple reason—this country is most innovative and successful when its people are working and its production base is strong.
As the International President of the United Steelworkers knows so well—this country was built by hardworking men and women: people who went to work each day to make and mold steel, or to build cars, planes, roads and other things that make America strong. American manufacturing and the labor unions that represent them created the standard of living that has made us the envy of the world.
But we didn't just become the envy of the world because of the things we made and the country we built; we're envied because people know that if you work hard in America, opportunities will follow. Whether you were a coalminer, a steelworker, or a glassmaker, you knew that if you put in the hours, you had a chance to build a life for yourself and your family.
The people who took tough jobs to provide for their families have given their children a better life. They strive to be the best and they have proven they are the most productive, efficient and industrious workers in the world. They are true patriots and they are what make America great.
This is certainly true in West Virginia. My state was built on coal mining, steel work, and factories producing a wide range of goods. Many of the towns and cities across the state grew and thrived because of the industries that provided reliable jobs and opportunities for families.
But, while we have a strong foundation, we also know that our competition is gaining on us. As Americans have done successfully so many times in the past, we must dig in and redouble our efforts to "Make It In America." Manufacturing is critical to our nation's economic might and national security, and must be a priority for our country.
There are some things that we simply can't outsource. We can't outsource our ability to defend this country, our secure communications networks, or our research and development (R&D) efforts. If we don't take the decline of manufacturing seriously, we will be outmaneuvered by competition worldwide—and we will outsource our ability to create the next major improvement in America's quality of life.
I cannot tell you how wrenching it is to drive the I-76 corridor from Philadelphia to Pittsburgh and see miles of shuttered factories. We need to turn this around.
Manufacturing jobs are slipping away at a time when we know that manufacturing still pays off for millions of Americans. The truth is manufacturing workers get higher pay and more generous benefits than Americans in non-manufacturing jobs. And these jobs have one of the largest multiplier effects in our economy. It is estimated that 2.5 additional jobs are created for every manufacturing job.
Think about it: where there are factories, there are parts and material suppliers. Where there are suppliers, there's a supply chain of producers—and more workers. And where there are workers, there are restaurants, stores and infrastructure to sustain them.
I don't think that people appreciate that manufacturing is this country's principal source of R&D and innovation. Manufacturing firms perform approximately 70 percent of U.S. industry R&D, while accounting for only about 11 percent of the economy.
Disturbingly, the R&D that could be going on here is being shipped overseas as well. In the past ten years approximately 57,000 factories closed. And where the factories go, innovation follows.
If we still want people to believe that they can "Make It in America," we can't let manufacturing become a relic of the past.
Nations similarly situated to the United States, such as Germany and Australia, have maintained their manufacturing base. We need to know whether there are lessons to be learned from our competitors. I recently asked the Government Accountability Office to examine why some countries are successful at maintaining manufacturing jobs while others are not. That's to be explored in another hearing, but our witnesses may have some insight there.
I am heartened that manufacturing activity has increased over the past several months as our country makes it out of the recession. But more must be done.
Industry, labor, and the government have a responsibility to work collaboratively to make the manufacturing sector stronger in the short and long term. To this end, the Committee has worked on supporting Science, Technology, Engineering, and Math education efforts (known as STEM) in the COMPETES Reauthorization Act. The Committee also has supported export efforts in the Export Promotion Act of 2010. And just this week, I introduced the American Infrastructure Investment Fund Act of 2011, which will leverage federal dollars to promote private partnerships and investment into major transportation projects. The bill will help build the roads and rail lines that will enable manufacturers to get products to markets here and abroad.
I know that we must make hard choices about how federal dollars are spent. But calls for slashing the budget have broad, and often troubling, implications for some of the hardest working Americans. Infrastructure investment is essential to promoting growth and creating jobs. There is no substitute for education and workforce training programs, or for helping small manufacturers and exporters find new markets. Indiscriminate and unthinking budget cuts seeking a short term improvement in our deficit will leave our country's economy at the mercy of the rest of the world's economic power. It will hurt this country for years to come.
Today, I want to hear from our witnesses on what more we can do to grow America's manufacturing sector and create more good-paying jobs. Based on what I have heard from West Virginians, and at this and other related hearings, I plan to develop additional legislation to strengthen this essential sector of our economy.
###