253
Russell Senate Office Building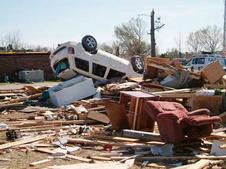 WASHINGTON, D.C.—Senator John D. (Jay) Rockefeller IV, Chairman of the U.S. Senate Committee on Commerce, Science, and Transportation, today announced a hearing to review America's natural disaster preparedness and response plans.
"Americans watched with great sadness the devastation wrought by the earthquakes and resulting tsunami in Japan, and with growing alarm the ongoing radiation hazards posed by the damaged nuclear reactors," Chairman Rockefeller said. "Many have rightly questioned our own national preparedness for a similar natural disaster. Meanwhile in the news just this last week, thousands of firefighters in Texas have battled challenging and deadly wildfires, tornadoes touched down in several central and Midwestern states, and the Mid-Atlantic and Northeastern states have struggled with heavier than usual seasonal flooding."
"We need to prepare ourselves for how the government can protect people, both here and elsewhere. Smart investments in our observational and warning systems, disaster preparedness, and response plans will pay dividends for years to come. We must give the agencies responsible for responding to potential disasters the resources and tools they need to protect American lives and our livelihoods."
The Senate Commerce Committee has unique jurisdiction over U.S. government agencies, such as the National Oceanic and Atmospheric Administration (NOAA), NASA, the National Institute of Standards and Technology, the National Science Foundation, and the U.S. Coast Guard, whose programs aid in natural disaster research, preparedness, detection, and response. The hearing will address needed improvements to our national natural disaster preparedness and response plans as well as investigate how Congress can better serve these agencies' needs to ultimately protect American lives. In this way, Congress can help ensure that the current response is an appropriate one and that we are doing everything possible to prepare for the next natural disaster.
Photo is of damage caused by tornado. Credit: NOAA
Webcast
Majority Statement
Chairman John D. (Jay) Rockefeller IV

U.S. Senate Committee on Commerce, Science, and Transportation

Majority Statement

Chairman John D. (Jay) Rockefeller IV

WASHINGTON, D.C.—Good afternoon. I want to welcome our distinguished panel of witnesses. Thank you for testifying before the Committee. And a special welcome to Bob Ryan, who so many in the Washington, D.C. region depend on for their weather news. Some may not know that his forecasts and alerts are critical to many in West Virginia's Eastern Panhandle. Thank you for being here today.

We are here today to examine our nation's ability to prepare and respond to natural disasters. The weather-provoked tragedies and terrible loss of life just days ago make it clear that this hearing could not come at a more important time.

Two months ago, the world watched as a series of earthquakes and a massive tsunami roiled Japan: toppling cities, overturning buildings and killing thousands of people. It was a tragedy of epic proportions.

And now, an ocean away, America is experiencing its own destruction and devastation because of natural disasters. Tornadoes and severe storms have rocked the American South and Midwest. In Alabama, the death toll has jumped to more than 200, and continues to climb, as families and first responders search rubble and razed towns for missing loved ones.

At least 15 people have been killed in Georgia and 34 in Mississippi. It's been the deadliest outbreak of tornadoes in nearly 40 years. We've seen whole neighborhoods ruined, homes flattened, cars flipped onto their sides, tractor-trailers twisting in the air like rag dolls. The destruction is devastating, and the death toll, rising.

I want to extend my deepest condolences to friends and family who've lost loved ones to these disasters—and my deepest thanks to those who are working around-the-clock to respond to them. The destruction and loss of life has been absolutely heartbreaking.

These events underscore just how important it is to be prepared for disaster when it strikes, and to mitigate damage, destruction and loss of life. They underscore how important it is to make the necessary strategic investments now to save lives and property in the future. I have one major question for our witnesses today: how can our nation best respond to, prepare for, and mitigate the effects of natural disasters—such as earthquakes, flash floods, tornadoes, hurricanes and wildfires—when they strike?

I find it extremely alarming that the American Society of Civil Engineers gave our nation's infrastructure—our levees, bridges and roads—a "D" grade in 2009. We must do better.

Right now, this Committee has several bills under consideration that would help reduce our nation's risk from natural disasters.

We know improved building codes can help reduce damage and fatalities when disasters strike. That is one of the aims of Senator Nelson's bill, the National Hurricane Research Initiative Act of 2011 and Senator Boxer's bill, the Natural Hazards Risk Reduction Act of 2011.

We also know that when the unthinkable occurs, first responders must be able to communicate—seamlessly, across cities and states—with one another. That's what my bill, the Public Safety Spectrum and Wireless Innovation Act, will do.

And we know that agencies, like NOAA, which provide early warnings, weather prediction and forecasting, need support and resources to do their jobs. That's why I will continue to fight reckless attempts to slash funding for the important services they provide.

Natural disasters cannot be avoided, but their damages can be mitigated, and we must do everything we can towards that end.

I want to again thank our witnesses for being here today. I look forward to learning your views on the state of our nation's disaster preparedness and what more we can do to prepare going forward.

###
Witness Panel 1
Dr. William H. Hooke

Senior Policy Fellow and Director

American Meteorological Society

Mr. Bob Ryan

Senior Meteorologist

ABC7/WJLA-TV

Dr. Anne S. Kiremidjian

Professor, Department of Civil and Environmental Engineering, Stanford University

on behalf of the American Society of Civil Engineers

Dr. Clint N. Dawson P.E.

Professor, Institute for Computational Engineering and Sciences

University of Texas at Austin