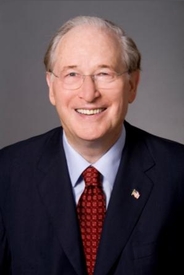 WASHINGTON, D.C.—Chairman John D. (Jay) Rockefeller IV released the following statement today after hearings in the House and Senate revealed growing and strong support for his push to set aside spectrum to improve the ability of fire fighters, police officers and other first responders to communicate with one another in an emergency.
"We are seeing more and more momentum for a top priority of the Commerce Committee, and I expect that the support will continue to grow as people learn what's at stake. Lives are on the line. One life lost because of inadequate communications is one too many in my book," Chairman Rockefeller said. "I share the sense of urgency of the Chair and Vice Chair of the 9/11 Commission, who urged Congress to immediately allocate the D-Block to our first responders. Let's get this bill done before the tenth anniversary of 9/11."
In the U.S. Senate today, the Chair and Vice Chair of the 9/11 Commission, former Governor Thomas Kean and former U.S. Rep. Lee Hamilton testified at the Senate Homeland Security & Government Affairs Committee hearing titled: "Ten Years After 9/11: A Report From the 9/11 Commission Chairmen". In the House, Rep. Peter King chaired the House Committee on Homeland Security hearing "Public Safety Communications: Are the Needs of Our First Responders Being Met?" During the hearing, he stressed the importance of public safety spectrum legislation: "Reallocating D-block is absolutely essential," Rep. King said. "For those who say we can't afford to pay for it now, I say we can't afford not to."
The 9/11 Commission Chair and Vice Chair spoke of the inability of first responders to communicate with each other during times of crisis, specifically on 9/11. Today, they called for the immediate allocation of D-block spectrum to public safety for a nationwide interoperable broadband communications system: "We must not approach these urgent matters at a leisurely pace. We don't know when the next attack or disaster will strike. Further delay is intolerable. We urge the Congress to Act." President Obama has also called for allocating the D-block spectrum to public safety.
###