253
Russell Senate Office Building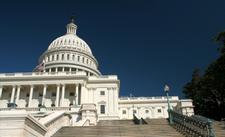 WASHINGTON, D.C.—The U.S. Senate Committee on Commerce, Science, and Transportation announces the following full committee hearing on the Federal role in national rail policy.
Individuals with disabilities who require an auxiliary aid or service, including closed captioning service for webcast hearings, should contact Collenne Wider at 202-224-5511 at least three business days in advance of the hearing date.
Webcast
Majority Statement
Chairman John D. (Jay) Rockefeller IV

U.S. Senate Committee on Commerce, Science, and Transportation

Majority Statement

Chairman John D. (Jay) Rockefeller IV

WASHINGTON, D.C.—Today's hearing is about progress. It's about what's required to modernize our transportation system so our businesses and our workers can stay competitive in the 21st century. It's about leveling the playing field. And it's about how when we do that, America is stronger in the global marketplace and that means jobs and economic security.

One of the keys to this progress is our national rail system. We all understand that our highways and skies are continuing to get more crowded. That means rail is going to have to become a higher priority. I am pleased that the Obama Administration is hard at work on this important issue, and I appreciate the Administration's efforts to aggressively implement the important infrastructure programs created by Congress.

I'm looking forward to hearing today from Deputy Secretary Porcari about the status of the development of the Department of Transportation's new "National Rail Plan." A comprehensive, long-term plan for our rail system is long overdue. I commend the Department and the Federal Railroad Administration for its good work on this issue. I'm also looking forward to hearing from Chairman Elliott of the Surface Transportation Board. He has been in his job for a little more than a year now and is ready to tell us about his future plans.

While today's hearing is about progress, it's also about the lack of progress we have seen over the last few decades. It's about the natural tendency of big corporations to fight to maintain a status quo that works well for them, but that will not get us where we need to go for the future. Of course I'm talking about the freight rail industry.

Thirty years ago, the freight railroads were really struggling. Congress responded by amending the law to give the railroads an opportunity to do business differently. I'm not sure I agree with how the law was written back in 1980, but I think it's pretty clear that the reforms worked from the railroads' point of view.

Today, I am releasing a staff report that documents just how well the big Class I freight railroads are doing these days.

What this important report tells us is that the railroads are earning 12 and 13% profit margins, which puts them at the top of the Fortune 500. And they're just getting more profitable because they're raising their shipping prices by an average of 5% a year. But the railroads say different things depending on their audience.

When they're talking to the Surface Transportation Board, Mr. Elliott's agency, they act like it's still 1980. They say they're barely making enough money to keep the lights on. But when they're on their quarterly calls with Wall Street investors, it's a very different story. These companies tout their high profit margins and their power to dictate prices to their customers. And at the same time they're telling Congress that they don't have enough money to invest in needed capital projects, they're using billions of dollars of their profits to reward their shareholders with dividends and stock buybacks. This is all happening at a time when shippers all over our country are paying more than their fair share to transport their goods to their customers – paying more because they have no other alternative.

As I have said many times before, we need a rail system that works not just for the freight railroads, but for all – shippers, passengers, and consumers. Unfortunately, it has felt at times like the railroads – some much more than others – have attempted to delay this process, hoping that these reforms will die if they can only stretch the process out through the elections. I am proud that for the first time in 30 years, this Committee reported out a bill – in a bipartisan way – that would update our rail regulations to reflect the economic realities of 2010. This legislation may not be on the cover of all the newspapers in the country each and every day but its benefits for communities small and large throughout America cannot – and should not – be underestimated.

Along with my cosponsors, Senators Hutchison, Lautenberg, Thune, and Dorgan, we have engaged the stakeholders in a dialogue to address their concerns before bringing the bill to the Senate floor. I want everybody in this room to know that whether we do it this year or next year, railroad reform is going to happen. Either Congress will do it, or it will need to be done through regulation.

Today's hearing is the first in a series to examine these issues and I look forward to hearing from our witnesses today.

###
Minority Statement
Senator Kay Bailey Hutchison

U.S. Senate Committee on Commerce, Science, and Transportation

Minority Statement

Senator Kay Bailey Hutchison

STATEMENT OF SENATOR KAY BAILEY HUTCHISON

RANKING MEMBER

COMMITTEE ON COMMERCE, SCIENCE, AND TRANSPORTATION

HEARING ON THE FEDERAL ROLE IN NATIONAL RAIL POLICY
SEPTEMBER 15, 2010

Thank you, Mr. Chairman, and thank you for holding today's hearing. This Committee has been extremely active in addressing rail policy issues, most recently securing enactment of legislation to reauthorize Amtrak; laying the groundwork for the development of high-speed rail service; and addressing rail safety. And of course, last December, the Committee unanimously reported S. 2889, legislation to reauthorize the Surface Transportation Board (STB) and reform policies that govern the economic regulation of the freight railroads. Today's hearing will be a good opportunity to take stock of what has been achieved and what still needs to be accomplished, particularly in light of the Department of Transportation's (DOT) progress report on the National Rail Plan.

As you know, Mr. Chairman, I am a strong supporter of a national network for intercity passenger rail service, and believe high-speed rail service can be competitive with highway and air travel along densely populated corridors. I also support a healthy freight rail industry. Nearly 40% of all freight, as measured in ton-miles, now moves by rail. Rail transportation reduces the number of trucks on our highways, lowering highway maintenance costs; uses less fuel; and emits fewer greenhouse gases.

However, I am also a strong supporter of a better balance at the STB between the needs of the freight railroads and their customers. For the past 30 years, the railroads have enjoyed virtually unlimited ratemaking freedom, and captive shippers have literally paid the price. Mr. Chairman, we have worked together very closely on the STB bill, and I know you want to see legislation passed this year as much as I do. I hope we can use today's hearing to get Mr. Elliott's views about the bill and where the STB is headed, and then move to quickly resolve the remaining open issues in the Committee bill.

I realize it may be difficult to reach a consensus on compensation for bottleneck rates, but we need to keep trying. That has remained the most difficult issue to address throughout this legislative process, and it is not surprising given the importance of adequate revenues to the industry and, in turn, to infrastructure investment in the network. I believe a lot of progress has been made and that we can still succeed, even though time is getting short. We have come too far to not keep working to achieve a consensus.

Since today's hearing will include a discussion of the investment needs for a national rail system, I want to take this opportunity to mention my concerns about the Federal Railroad Administration's (FRA) interpretation of the Positive Train Control (PTC) mandate approved, with my support, as part of the 2008 Rail Safety Improvement Act. PTC is not due on lines carrying passengers and toxic-by-inhalation materials until December 31, 2015, yet FRA is requiring the railroads to base their PTC plans on lines where TIH moved in 2008, seven years before the mandate takes effect. I believe this is an incorrect and unfair interpretation of the statute.

By FRA's own estimate, the present value cost to install and operate PTC over a 20-year period will be between $9.5 and $13.2 billion – a cost that will be borne by the railroads and, I expect, their shippers. The costs of installing PTC exceed the benefits by a factor of about 20 to 1. FRA's view, if allowed to stand, would require Class I railroads to install PTC on approximately one-third more miles of track than would be required using the "2015 map" for the movement of TIH. I look forward to hearing from Deputy Secretary Porcari about how DOT plans to address concerns raised by many regarding the 2008 base year.

Finally, it appears DOT has made a good start on a National Rail Plan. However, as DOT acknowledges, there is much additional work that remains to be done to have a detailed plan and roadmap, as well as a good estimate of the cost of a fully developed freight and passenger rail system, including high-speed rail routes. I look forward to hearing more about the Plan and recommendations for any actions needed by Congress.

Thank you again, Mr. Chairman. I look forward to a spirited discussion this afternoon about the STB bill and the other rail policy issues before us.
Witness Panel 1
Witness Panel 2
The Honorable John D. Porcari

Deputy Secretary

U.S. Department of Transportation

The Honorable Daniel R. Elliott III

Chairman

Surface Transportation Board