Bill includes new tools to enhance the Coast Guard's critical homeland security, marine safety, fisheries and environmental protection missions
May 7, 2010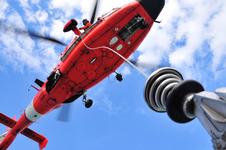 WASHINGTON, DC — U.S. Senate Commerce, Science, and Transportation Committee Chairman John D. (Jay) Rockefeller IV (D-WV), and Ranking Member Kay Bailey Hutchison (R-TX), today applauded Senate passage of the Coast Guard Authorization Act for Fiscal Years 2010 and 2011 (H.R. 3619). The comprehensive legislation authorizes the U.S. Coast Guard's funding levels for fiscal years 2010 and 2011, improves management and oversight of the Coast Guard's Deepwater fleet modernization program, and provides new tools to enhance the Coast Guard's critical homeland security, marine safety, fisheries and environmental protection missions.
"The Coast Guard has served this nation with distinction and honor throughout its nearly 220-year history. Always ready, the Coast Guard is deployed every day to defend our maritime interests at home and abroad, safeguard our borders, protect our environment, and save lives in peril," Chairman Rockefeller said. "At this very moment, Coast Guard Commandant Admiral Thad Allen is leading efforts to make sure every resource is made available to the brave and dedicated members of the Coast Guard who are working tirelessly to contain the Gulf Coast oil spill to minimize economic and environmental damage. I will always fight to make sure the Coast Guard has the tools it needs to carry out its missions."
"The Coast Guard plays a vital role in Texas and across the nation," said Senator Hutchison. "These brave men and women are the guardians of the sea and the first to respond when there is trouble such as the recent oil spill in the Gulf of Mexico. This measure will provide the Coast Guard with the needed funds and authorities to continue to protect America's coasts and waterways."
Highlights of the Coast Guard Authorization Act for Fiscal Years 2010 and 2011 include:
Providing long needed reforms to the Coast Guard's major acquisitions processes and procedures by establishing a leadership structure, direct accountability, and clear roles and responsibilities with regard to major acquisitions throughout the Coast Guard's chain of command.
Prohibiting the Coast Guard's use of a "lead systems integrator"—the mechanism by which private contractors working on the Deepwater program were essentially allowed to manage themselves and approve their own work. Use of lead systems integrators would be prohibited throughout the entire Coast Guard on the date of enactment, except in limited circumstances where it would be phased out by the end of 2012.
Granting important new statutory authority for the Coast Guard to complete its sweeping organizational restructuring (referred to within the Coast Guard as "Modernization"), as well as a number of other key provisions related to the Coast Guard's organizational, administrative and personnel needs.
Authorizing important new tools that will better enable the Coast Guard and the National Oceanic and Atmospheric Administration (NOAA) to deal with oil pollution prevention and response, including: strengthened navigational measures in sensitive areas; improved authority for Coast Guard coordination with State prevention and response authorities; extension of responsibility for oil spills from single hull tank vessels to the actual owners of the oil; and new authority for the Coast Guard to track and report instances of human error—the most frequent cause of accidental spills.
###