Warns Chairman that Reclassifying Broadband without Congressional Direction Threatens Agency Credibility
April 14, 2010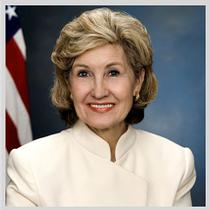 WASHINGTON, D.C. – Senator Kay Bailey Hutchison (R-Texas), Ranking Member on the Senate Commerce, Science, and Transportation Committee, today called on Federal Communications Commission (FCC) Chairman Julius Genachowski to reject calls to impose new regulations on the Internet during a Commerce Committee hearing on the FCC's Broadband Plan.
"While I have some concerns about the plan itself, I am much more concerned by the aggressive regulatory posture being conveyed by the Commission," said Senator Hutchison. "In my judgment, if the FCC were to take the action Chairman Genachowski and his colleagues appear to be considering, reclassifying broadband without a directive from Congress and a thorough analysis of the facts and the potential consequences to investment, the legitimacy of the agency would be seriously compromised. I hope that we can take a step back to consider the consequences of such a decision and whether there are alternatives we can work together on to clarify the authority of the FCC while preserving an environment that encourages investment. I am confident we can find common ground, but that will not happen if the FCC takes this action."
Senator Hutchison also noted that she was concerned about how the FCC's plan would impact the broadcast spectrum. "I need assurances from Chairman Genachowski that he will not be turning to involuntary measures to reclaim additional spectrum from the broadcasters," said Senator Hutchison. "Particularly following the digital television transition that reclaimed a significant portion of the spectrum from broadcasters, we should not be moving to take additional broadcast spectrum. Instead we should be encouraging and assisting those who want to lease their extra capacity to help with broadband, but under no circumstances should we be forcing anyone to surrender their spectrum."
Senator Hutchison said the plan needed more ideas for including a role for private sector investments in the broadband plan. Last summer, she introduced the Connecting America Act of 2009 (S.1447), which is designed to stimulate investment and economic development activity in broadband communications over the next five years. The legislation creates tax credits to encourage companies to make investments and encourage broadband investment to maintain and improve infrastructure where it is needed most. The bill would create a technology-neutral bond program that will allow communities, rather than federal bureaucrats, to raise funds for construction, assess their own infrastructure needs, and adopt the broadband technologies that are most appropriate. The legislation would also reform and streamline the numerous federal programs supporting broadband to focus broadband deployment funding in a coordinated manner.
"I do think that there are a number of positive provisions in the plan including recommendations to reform the Universal Service Fund that provides support for low income Americans to access telecommunication capabilities and provides support to lower the cost of building infrastructure in rural areas. Without reform, the program is not sustainable in this emerging communications environment. I am also pleased that the Commission focuses heavily on making sure that anchor institutions in our communities like schools, universities, hospitals, and libraries have access to very robust broadband services."

# # #
You can view Senator Hutchison's statement here.