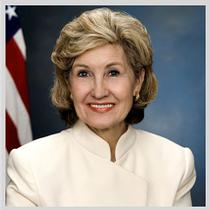 WASHINGTON, D.C. – Senator Kay Bailey Hutchison (R-Texas), Ranking Member on the Senate Commerce, Science, and Transportation Committee, recently authored an opinion piece in the Houston Chronicle on the future of NASA.
March 5, 2010

Houston Chronicle --After 50 years of NASA, we must not leave space

By U.S. SEN. KAY BAILEY HUTCHISON
More than 40 years ago, our nation and the world paused to witness history as astronauts Neil Armstrong and Buzz Aldrin saw firsthand the "magnificent desolation" of the moon. That defining moment reminded our nation that America can overcome insurmountable challenges and achieve great things when we are committed and dedicated to a singular purpose. But NASA's strong history of innovation, as well as our dominance in space, is in danger because President Barack Obama has decided to shift the agency's mission to more Earth-bound tasks.
If President Obama has his way, the U.S. will retire the space shuttle program later this year, just as the International Space Station is finally complete and without a viable alternative to take its place. America has spent billions of dollars building and maintaining the space station. Now that it is complete, the Obama budget plan ensures that we will no longer have easy access to it.
Current plans for the next-generation space vehicles are years away from completion. This human spaceflight gap threatens not only our nation's access to the International Space Station and other areas of space but also our national security and economic interests. America's decades-long dominance of space will finally come to an end. This is wrong.
Instead of sending up a white flag for our nation's premier science agency, I believe we must close the gap in human spaceflight. To do so, I have introduced legislation allowing NASA to extend the shuttle's service while work continues on development of the next generation of space vehicle. My legislation will make the retirement of the shuttle dependent on the availability of a replacement ship or until NASA determines that the space shuttle's capabilities are not needed to keep the space station viable. The measure will also provide acceleration of the nation's human spaceflight programs to ensure we continue to have future access to space.
Unless we make every effort to close the gap in U.S. human spaceflight, we will have no choice but to face the reality that we will be totally dependent on Russia for access to space. Should Russia, far from our strongest ally, "renegotiate" the terms of our cooperation, the U.S. could be blocked from space for years. This would leave Russia and China as the only nations in the world with the capability to launch humans into space.
This must not be an either-or proposition in which we are forced to choose between continuing to fly the shuttle and maintaining our independence in reaching space or investing in the next generation of space vehicle. We can and must do both. By maintaining our independence from other nations in reaching space, the U.S. can fully realize the research potential of the space station as a national lab while protecting and promoting our national interests.
We must seize our nation's proud history of innovation and dominance in space as inspiration to move forward. As President John F. Kennedy said at Rice University in 1962: "We choose to go to the moon in this decade and do the other things, not because they are easy, but because they are hard, because that goal will serve to organize and measure the best of our energies and skills, because that challenge is one that we are willing to accept, one we are unwilling to postpone, and one which we intend to win." Investing in the next generation of space vehicle while continuing to fly the shuttle will not be easy, but we must accept the challenge and overcome the obstacles to reach our nation's goals.

Hutchison, a Republican, is the senior U.S. senator from Texas.


# # #