Measure Improves Overall Safety and Efficiency of Nation's Air Travel System
March 22, 2010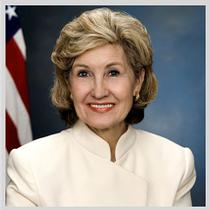 WASHINGTON, D.C. – Senator Kay Bailey Hutchison (R-Texas), Ranking Member on the Senate Commerce, Science, and Transportation Committee, said the Federal Aviation Administration (FAA) reauthorization legislation approved by the United States Senate today represents the future of U.S. aviation. She also noted that it will improve aviation safety, modernize the nation's air traffic control system, and make important investments in aviation infrastructure across the nation.
"This critical legislation is long overdue. For too many years, our nation has put off the daunting task of modernizing our country's antiquated air traffic control system," said Senator Hutchison. "Modernization of the country's air traffic is crucial to our economic growth and will move America closer to a more efficient and effective use of our national airspace. This measure will improve the safety of air travel for millions of Americans, and represents an important commitment to the future of aviation in this country."

The bill would specifically:

Improve Aviation Safety
Address National Transportation Safety Board (NTSB) recommendations regarding causal factors of the Colgan Flight 3407 accident last year.
Ensure steps are taken to attain "one level of safety" across all commercial aircraft operations.
Improve safety oversight of foreign repair stations.
Improve safety for air emergency medical service operations by instituting new standardized dispatch procedures, and promote the use of updated terrain awareness systems and on board technology.
Modernize the Air Traffic Control System
Advance the NextGen initiative to transform the nation's air traffic control from a ground-based radar system to a satellite-based system that uses Global Positioning System (GPS) navigation and surveillance, digital communications, and more accurate weather services.
Establish clear NextGen deadlines for technology adoption and better procedural development across the entire aviation system and directs the FAA to accelerate planned timelines for integrating Automatic Dependent Surveillance-Broadcast (ADS-B) technology into the NAS, requiring the use of "ADS-B Out" on all aircraft by 2015 and the use of "ADS-B In" on all aircraft by 2018.
Create an "Air Traffic Control Modernization Oversight Board" to provide better oversight of FAA's modernization activities.
Invest in Airport Infrastructure
Authorize increased investment in airport infrastructure through the Airport Improvement Program (AIP), along with streamlining and creating greater flexibility for certain airport improvement projects.
Improve Small Community Air Service
Increase investment in rural air service initiatives like the Essential Air Service (EAS) program. The EAS program provides access and economic opportunity to several small communities across the U.S., including Victoria, Texas.
# # #