"Must Work to Ensure No Dangers to Consumers, and No Impact on Innovation and Investment"
March 11, 2010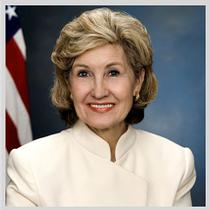 WASHINGTON, D.C. – During a Senate Commerce, Science, and Transportation Committee hearing today on consumers, competition and consolidation in the broadband and video market, Senator Kay Bailey Hutchison (R-Texas), Ranking Member on the Committee, stressed the need to ensure media mergers do not endanger consumers and competitors, and that government actions do not impact innovation and investment.
"We must grapple with evolving technology between traditionally distinct businesses like telecommunications and video program distribution. Also, we must realize that consumers' demand and means of accessing content evolve and business models shift in order to meet those preferences," said Senator Hutchison. "Congress and the regulators must tread very carefully and make sure that the policies we discuss take account of the evolving nature of the marketplace, the competition between providers, and the growing number of choices consumers have to access content. We do not want to intervene in private market negotiations in a way that disrupts what is going on in the marketplace or leads to advantages for one stakeholder or technology."
Hutchison noted that Texas has fourteen Telemundo stations, three of which Comcast will own and operate. She stated that Texas also has 21 NBC stations, one of which (Dallas/Fort Worth) will be owned and operated by Comcast and that consumers in Texas want to know how programming and availability of all of these stations will be impacted. Hutchison said that they particularly want to know whether Comcast will continue to invest and develop programming for the stations, and that NBC and Telemundo will remain available as free over-the-air stations.
Towards the end of the first panel, Federal Communications Commission (FCC) Chairman Julius Genachowski was asked if the FCC was considering "reclassifying broadband" services from information services to telecom services, where they would be subject to antiquated common carrier regulation. Chairman Genachowski answered that while the FCC is arguing before the courts now that they have current legal authority to supervise the market, they will look at other options should the courts rule against them.

"Chairman Genachowski was also asked today whether the FCC would consider reclassifying broadband services under the antiquated common carrier regulatory regime. Regrettably, the Chairman did not take the opportunity to take a strong stand against imposing regulation onto broadband investment and the Internet," said Senator Hutchison. "It would be an enormous mistake to reclassify vibrant new services under a regulatory regime that is as relevant to the current marketplace as the horse drawn carriage is to modern interstate travel. Burdensome new regulations would starve investment and curtail innovation. I am disappointed to learn the FCC continues to think this is worthy of consideration."


# # #
You can watch Senator Hutchison's statement here.