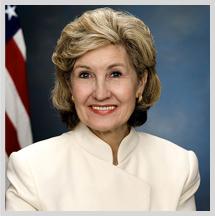 WASHINGTON, D.C. – Senator Kay Bailey Hutchison (R-Texas), Ranking Member on the Senate Commerce, Science, and Transportation Committee, today authored an opinion piece in The Hill newspaper on the upcoming broadband report by the Federal Communications Commission expected next month.
January 6, 2010
The Hill – FCC Broadband plan must be daring, comprehensive
By Senator Kay Bailey Hutchison
As the nation continues to urge Washington to focus on job creation and economic growth, lawmakers need to realize that this is the time for bold action to close America's growing digital divide. Technology innovations continue to push our nation forward, but there are far too many communities in America that lack access to advanced communications infrastructure and broadband Internet service. Without this vital access, many of these communities will be denied the economic and educational benefits associated with new technologies. Increasing investment in the infrastructure necessary to reach unserved communities is a critical component to the future economic growth of our nation.
Most agree that expanding access to broadband communications technology can transform the lives of Americans across the country. We know, for example, that broadband technology can enhance educational opportunities through distance learning and improve rural health care delivery through remote diagnostic medicine. Yet, in spite of agreement on the need for a comprehensive national strategy to reach our unserved communities, there is a lack of consensus on the policy initiatives necessary to realize this goal.
Last year, Congress charged the Federal Communications Commission with the responsibility for preparing the first ever "national broadband plan" to identify the key steps needed to increase the availability and use of broadband technology and to close the digital divide. In February, the Commission will deliver its report to Congress following months of public hearings held across the country with academics, technology experts, small businesses, and average Americans. For Congress, federal and state agencies, and private technology companies to find consensus on the steps necessary to make broadband available to all Americans, this report must be more than a "plan for a plan."
A national strategy for bringing broadband technology to every community in America must be daring and comprehensive. The Commission must establish goals for the deployment of broadband infrastructure and performance measures to track and assess progress, especially in light of the billions allocated for broadband in the American Recovery and Reinvestment Act. Their report must also include recommendations on topics ranging from the availability of additional spectrum for wireless services to ways to encourage additional private investment and adoption of the technology by more Americans.
One key component of our national broadband strategy will be allocating additional wireless spectrum to fuel innovation and keep pace with surging demand for wireless services. Wireless technology offers advantages in reaching rural areas with smaller populations, but most experts agree that there is a looming shortage of spectrum available for future commercial use. Finding additional spectrum for future needs must be a focus of the federal government, and the Commission's report should include discussion of the options available to help us realize that goal and the challenges likely to be confronted. There are no easy answers to our spectrum needs, but the Commission's analysis must look broadly at all spectrum use by commercial entities and the federal government before reaching conclusions about particular spectrum that should be reallocated.
Another significant aspect of a comprehensive national broadband strategy will be identifying ways to encourage new investment in areas lacking the necessary infrastructure. The reality of our current fiscal situation limits the amount of federal funds available for construction of new broadband infrastructure and places particular importance on bold new ideas to generate private investment by communications providers of all sizes using all available technologies.
Finally, it would be a mistake to believe that the federal government can formulate and execute a comprehensive strategy to bring broadband technology to every American without the guidance and assistance of state and local governments. To be successful, our strategy must include a significant role for these partners, who are uniquely positioned to identify challenges presented by particular unserved and underserved areas. State and local governments can work effectively to develop public-private partnerships that provide new infrastructure and encourage individuals and groups to adopt the technology through initiatives like digital literacy programs for adults and electronic government.
The Federal Communications Commission's forthcoming report to Congress can be a catalyst for decisive action to bring the benefits of broadband technology to all Americans and to close the gap between the United States and other developed countries in the communications capabilities available to individuals and businesses. For that to happen, the Commission's report must itself be bold and comprehensive.
Senator Kay Bailey Hutchison is the senior Republican member of the Senate Committee on Commerce, Science and Transportation. She is the sponsor of the Connecting America Act of 2009, a bill focused on tax incentives for private broadband investment and reform to existing federal broadband programs. She is also the chief co-sponsor of legislation with Senator Jay Rockefeller to create a pilot program expanding components of the federal Universal Service Fund to cover broadband services.
###