Measure Would Reauthorize Surface Transportation Board for 5 Years
December 17, 2009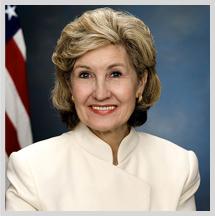 WASHINGTON, D.C. – The Senate Commerce, Science, and Transportation Committee today approved bipartisan legislation cosponsored by Senator Kay Bailey Hutchison (R-Texas), Ranking Member on the Committee, and Chairman John D. Rockefeller (D-W.Va.) to update federal rail policy to better balance the needs of rail carriers and their shippers and reauthorize the Surface Transportation Board (STB) for 5 years. The STB has not been reauthorized since it was established in 1996.
"Our legislation addresses rail shipper concerns, while also taking into consideration the needs of the rail industry and the importance of maintaining a viable freight rail network," said Senator Hutchison. "I am very pleased that we have been able to reach a bipartisan consensus on what has been an extremely divisive issue for years, and look forward to moving the legislation through the full Senate as soon as possible. The bill strikes an important balance for both the shippers and industry, especially the new arbitration provision that allows smaller shippers to raise legitimate complaints and seek a remedy through the STB."
The STB's primary function is to oversee the economic regulation of the nation's freight railroads. The Board has jurisdiction over railroad rate and service matters, railroad restructuring transactions (mergers, line sales, line construction, and abandonments), and related labor issues. In addition to these responsibilities, the STB oversees certain trucking company, moving van, and non-contiguous ocean shipping company rate matters; certain intercity passenger bus company structure, financial, and operational matters; and certain pipeline matters, including rate-related matters not regulated by the Federal Energy Regulatory Commission.
The Surface Transportation Board Reauthorization Act of 2009 (S. 2889) would expand and improve the quality and expertise of the STB; create a new arbitration process for small rate complaints; streamline the rate complaint process and permanently lower the fee for filing a complaint; create a new Customer Advocate at the STB, who would work with shippers who have questions or complaints and help them get their concerns addressed; reinstate the Board's ability to initiate investigations on its own; direct the STB to undertake a study of rail practices, including switching, demurrage, and other accessorial charges, including fuel surcharges; and, establish a review process for new and existing barriers that limit the ability of some rail lines to interchange freight carriers other than those which sold or leased the line.
###