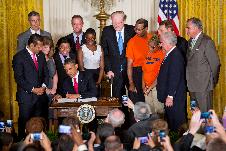 WASHINGTON, D.C.— Chairman John D. (Jay) Rockefeller IV issued the following statement after President Obama signed a reauthorization of the nation's surface transportation programs into law.
"As a conferee and Chairman of the Committee responsible for making our transportation system safer, I'm pleased we approved a bill that's bipartisan and makes smart investments in our national infrastructure and safety system," said Rockefeller. "This is about transportation safety for all Americans and both protecting and creating new jobs through investment in our infrastructure. Finding consensus is never easy, but this was a major priority and making the country's roads, bridges, and highways safer and more efficient is good for all of us. I know West Virginia can make good use of the over $420 million coming to the state next year to rebuild our highways."
Key surface transportation, safety, and freight provisions enacted into law:
Improve and establish National Highway Traffic Safety Administration (NHTSA) grant programs to encourage graduated driver licensing for teens and to address long-standing and emerging driving issues, such as distracted and impaired driving; enhance NHTSA's research and enforcement authority; mandate lifesaving new child safety standards for rear seat belts and child seats; authorize research for advanced technologies to prevent drunk driving; establish new whistleblower protections; increase the availability of public safety information; and promote better corporate responsibility for safety.
Modernize the Federal Motor Carrier Safety Administration's (FMCSA) approach to truck and bus safety by increasing the use of technology and data to drive enforcement efforts; ensure that only the safest truck and bus drivers are authorized to drive on our highways by increasing driver training and implementing a drug and alcohol testing clearinghouse; improve the safety laws and regulations that govern drivers and vehicles that operate in the industry; increase penalties for auto manufacturers that mislead or intentionally fail to report vehicle defects; and enhance FMCSA's authority to oversee the truck, bus, and household goods movers industries; and
Increase the safety and oversight of the hazardous materials being transported through our nation's transportation networks by creating a uniform set of standards within the Pipeline and Hazardous Materials Safety Administration (PHMSA) for training of hazmat inspectors and emergency responders; increase the civil penalties for safety violations; increase PHMSA inspection authority and enhance data collection; and establish a study of the safety of existing hazmat special permits.
###