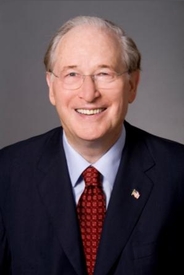 WASHINGTON, D.C.—Chairman John D. (Jay) Rockefeller IV spoke at a Senate Intelligence Committee hearing today on the urgent need to pass cybersecurity legislation, which he is writing with Homeland Security Committee Chairman Joe Lieberman, Ranking Member Susan Collins, and other Senate colleagues. The Rockefeller-Lieberman-Collins proposal would improve the security standards for critical private sector networks, support public-private information sharing, and streamline existing government authorities to protect from cyber-attack.
At the hearing, Rockefeller urged National Intelligence Director James Clapper to take every opportunity to press policymakers about the current capabilities of today's sophisticated cyber actors, and urged the Administration and his Senate colleagues to act immediately to pass legislation to improve how government and industry team up to shore up U.S. cyber defenses.
"The threat posed by cyber-attacks is greater than ever, and it's a threat not just to companies like Sony or Google but also to the nation's infrastructure and the government itself," Rockefeller said. "Today's cyber criminals have the ability to interrupt life-sustaining services, cause catastrophic economic damage, or severely degrade the networks our defense and intelligence agencies rely on. Congress needs to act on comprehensive cybersecurity legislation immediately. We can and should create a public-private partnership to combat cyber-attacks.
"Throughout this three-year process, we've reached out to a range of experts and stakeholders—from the government and the intelligence community, to the high tech, IT communities, and privacy and civil liberties groups. This has been a bipartisan and transparent process of hundreds of meetings, presentations, and opportunities to comment and offer suggestions. Over the past few months we have accelerated our efforts, and I'm confident that every voice has been heard. We have momentum."
###