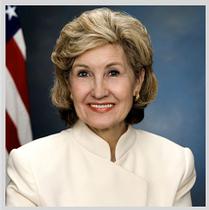 WASHINGTON, D.C. – Senator Kay Bailey Hutchison (R-Texas), Ranking Member on the Senate Commerce, Science, and Transportation Committee, and Senator John Thune (R-S.D.), Ranking Member on the Surface Transportation and Merchant Marine Infrastructure, Safety, and Security Subcommittee, today said they were pleased the Obama Administration has agreed to revisit the Positive Train Control (PTC) regulatory mandate in order to reduce compliance costs, while also maintaining a safe rail system. Last month, Senator Hutchison and Senator Thune sponsored legislation that would address the mandate by basing the PTC regulations on 2015 rail usage when the PTC mandate goes into effect, rather than 2008. The legislation is cosponsored by Roger Wicker (R-Miss.) and Tom Coburn (R-Okla.). PTC is an automated technology that is capable of preventing train collisions, overspeed derailments and injuries to railroad employees. In 2008, Congress passed legislation requiring the railroads to implement PTC technology on rail lines that carry passengers or certain types of very toxic chemicals by December 2015.

"The action is a step in the right direction to address burdensome regulations that would cost the rail industry and their customers billions of dollars with no obvious safety benefits," said Senator Hutchison. "Leaders in Washington share a special responsibility to use common sense when imposing new regulations in order not to stifle economic competitiveness."

"After extensive urging by Congress and input from stakeholders, the Obama Administration has finally decided to review their costly regulations of railroads in the United States," said Senator Thune. "The Administration's Positive Train Control regulations pose a multi-billion dollar tax burden on private freight railroads and public commuter rail systems. I am pleased to see that the Administration has started to listen to the rail industry and is reevaluating their burdensome regulations due to the concerns raised over the past year."

Traffic patterns for shipping toxic chemicals are changing, in part due to new Department of Transportation and Transportation Security Administration regulations. This means that at least 10,000 route miles currently used to move toxic or poisonous inhalation materials in 2008 are no longer expected to transport these products in 2015. By requiring that PTC be installed on lines used to transport passengers or certain chemicals based on 2008 usage rather than 2015, the Federal Railroad Administration (FRA) has expanded the Congressional mandate beyond what was intended and dramatically inflated compliance costs.

In developing the final rules that are now being revisited, the Federal Railroad Administration chose to require implementation of the PTC mandate in a manner that substantially increases the costs of compliance for America's freight and passenger rail industry, and in turn, their customers. The railroad industry estimates PTC will cost more than $13 billion to install. By FRA's own estimate, its rule to implement PTC would result in a cost-benefit ratio of 20 to 1.
# # #