Says FAA Bill Is About American Jobs, Not Yesterday's Health Care Vote
February 1, 2011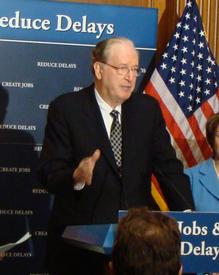 WASHINGTON, D.C.—Senator John D. (Jay) Rockefeller IV, Chairman of the U.S. Senate Committee on Commerce, Science, and Transportation, released the following statement today striking back at the Republican plan to repeal the health care reform law on the back of the FAA Reauthorization bill. The FAA Reauthorization bill is the first jobs bill of the 112th Congress.
Chairman Rockefeller's statement follows:
"Let me be the first to say that everyone recognizes that the health care reform bill is not perfect. I support revisiting the 1099 component so we don't create an unintentional burden on small businesses. That's a sensible tweak to legislation that overall is very good for middle class West Virginians and Americans.
"But there is a time and a place for everything. Today the other side is trying to literally hijack this important FAA bill for their own political reasons. Instead of letting us move forward with a bill that will make airline travel safer, they want more votes on health care. Instead of joining us on a bill that revitalizes small and regional airports – creating and protecting jobs – they want votes on health care. And instead of working collaboratively toward a bill that would help consumers with a 'passenger bill of rights,' they want votes on health care.
"This is nothing but a distraction and a stunt. Repeal would take away from 32 million people the chance to finally obtain comprehensive, affordable health insurance – including 16 million fewer covered under Medicaid and CHIP. Repeal would take us backward, from 94% of legal, non-elderly U.S. residents covered by 2019, to 83% covered. Let's not fight yesterday's argument again and again. Let's bring this FAA bill to the floor without pointless delays and unrelated arguments."
###