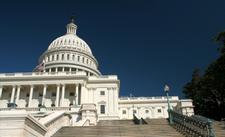 WASHINGTON, D.C.—The U.S. Senate Committee on Commerce, Science, and Transportation today held a business meeting to approve new expedited procedures to conduct witness depositions. Under the new rules, Chairman Rockefeller can now authorize committee staff to interview witnesses under oath during committee investigations. The new rules also give Republican Ranking Member Kay Bailey Hutchison and her staff the right to participate in these depositions.
"One of my priorities at this committee is fighting for American consumers and doing everything we can to root out waste, fraud, and abuse in the government." Rockefeller said. "By increasing the Committee's capacity to gather crucial information during investigations, we have also increased our ability to stop misleading practices in the private sector and to protect taxpayers' dollars against waste, fraud, and abuse. I am pleased with the outcome of the committee vote today, and I look forward to working with my colleagues on future committee investigations."
Under Senator Rockefeller's chairmanship the Commerce Committee has led the charge on several investigations that have resulted in better protections for consumers and more accountable business practices. Since 2009 Commerce Committee investigations have:
Put an end to a billion-dollar Internet commerce scam;
Helped end abusive practices of the debt settlement industry;
Disclosed unfair billing practices in the health insurance industry;
Uncovered waste, fraud, and abuse in the Small Business Innovation Research (SBIR) program;
Led to a pro-consumer provision in health care reform; and
Improved oversight at the National Highway Traffic Safety Administration (NHTSA) in response to reports of Toyota vehicle safety concerns.
###