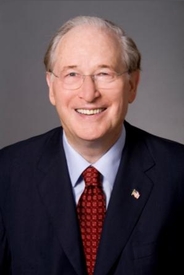 WASHINGTON, D.C.—Today's hearing is about progress. It's about what's required to modernize our transportation system so our businesses and our workers can stay competitive in the 21st century. It's about leveling the playing field. And it's about how when we do that, America is stronger in the global marketplace and that means jobs and economic security.
One of the keys to this progress is our national rail system. We all understand that our highways and skies are continuing to get more crowded. That means rail is going to have to become a higher priority. I am pleased that the Obama Administration is hard at work on this important issue, and I appreciate the Administration's efforts to aggressively implement the important infrastructure programs created by Congress.
I'm looking forward to hearing today from Deputy Secretary Porcari about the status of the development of the Department of Transportation's new "National Rail Plan." A comprehensive, long-term plan for our rail system is long overdue. I commend the Department and the Federal Railroad Administration for its good work on this issue. I'm also looking forward to hearing from Chairman Elliott of the Surface Transportation Board. He has been in his job for a little more than a year now and is ready to tell us about his future plans.
While today's hearing is about progress, it's also about the lack of progress we have seen over the last few decades. It's about the natural tendency of big corporations to fight to maintain a status quo that works well for them, but that will not get us where we need to go for the future. Of course I'm talking about the freight rail industry.
Thirty years ago, the freight railroads were really struggling. Congress responded by amending the law to give the railroads an opportunity to do business differently. I'm not sure I agree with how the law was written back in 1980, but I think it's pretty clear that the reforms worked from the railroads' point of view.
Today, I am releasing a staff report that documents just how well the big Class I freight railroads are doing these days.
What this important report tells us is that the railroads are earning 12 and 13% profit margins, which puts them at the top of the Fortune 500. And they're just getting more profitable because they're raising their shipping prices by an average of 5% a year. But the railroads say different things depending on their audience.
When they're talking to the Surface Transportation Board, Mr. Elliott's agency, they act like it's still 1980. They say they're barely making enough money to keep the lights on. But when they're on their quarterly calls with Wall Street investors, it's a very different story. These companies tout their high profit margins and their power to dictate prices to their customers. And at the same time they're telling Congress that they don't have enough money to invest in needed capital projects, they're using billions of dollars of their profits to reward their shareholders with dividends and stock buybacks. This is all happening at a time when shippers all over our country are paying more than their fair share to transport their goods to their customers – paying more because they have no other alternative.
As I have said many times before, we need a rail system that works not just for the freight railroads, but for all – shippers, passengers, and consumers. Unfortunately, it has felt at times like the railroads – some much more than others – have attempted to delay this process, hoping that these reforms will die if they can only stretch the process out through the elections. I am proud that for the first time in 30 years, this Committee reported out a bill – in a bipartisan way – that would update our rail regulations to reflect the economic realities of 2010. This legislation may not be on the cover of all the newspapers in the country each and every day but its benefits for communities small and large throughout America cannot – and should not – be underestimated.
Along with my cosponsors, Senators Hutchison, Lautenberg, Thune, and Dorgan, we have engaged the stakeholders in a dialogue to address their concerns before bringing the bill to the Senate floor. I want everybody in this room to know that whether we do it this year or next year, railroad reform is going to happen. Either Congress will do it, or it will need to be done through regulation.
Today's hearing is the first in a series to examine these issues and I look forward to hearing from our witnesses today.
###