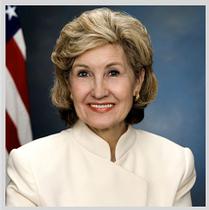 WASHINGTON, D.C. – During a hearing today on reauthorization of the SAFE Port Act in the Senate Commerce, Science and Transportation Committee, Senator Kay Bailey Hutchison (R-Texas), the Committee's Ranking Member, said that port security plays a crucial role in America's national security efforts. In 2006, Senator Hutchison was a cosponsor of the original SAFE Port Act, which strengthened port security across the nation by establishing innovative programs to enhance the ability to protect our borders and preserve the flow of commerce.
"The maritime transportation system in the United States is a vital asset to the nation's economy, employing more than 13 million workers," said Senator Hutchison. "The cargo that passes through our country's ports and waterways contributes approximately three-quarters of a trillion dollars to the U.S. gross domestic product. Our nation's economy and flow of commerce could be significantly impacted by an incident at one of our nation's ports, and it is crucial that we reauthorize this important legislation."
Senator Hutchison noted that in her home state of Texas, the Port of Houston continues to rank first in the country in U.S. imports, first in foreign waterborne tonnage, and is home to the U.S. Strategic Petroleum reserve. The Houston shipping channel businesses account for almost 800,000 jobs and have an economic impact of close to $120 billion.

The original SAFE Port Act of 2006 strengthened maritime transportation and port security by enhancing the security of cargo transiting through the international supply chain, and requiring a plan to examine containers entering the United States for radiation and Weapons of Mass Destruction (WMD). Additionally, the legislation improved cargo security by increasing the number of random searches using the Automated Targeting System (ATS) and Container Security Initiative (CSI) programs to track international cargo that may be a threat to America.
# # #

You can view Senator Hutchison's statement here.