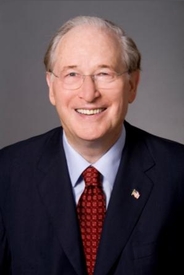 WASHINGTON, D.C.—Senator John D. (Jay) Rockefeller IV, Chairman of the U.S. Senate Committee on Commerce, Science, and Transportation, issued the following statement after the Senate passed the Airline Safety and Federal Aviation Administration Extension Act of 2010. The Federal Aviation Administration (FAA) Reauthorization extension reauthorizes the FAA through September 30, 2010 and implements critical aviation safety and pilot training improvement measures.
Chairman Rockefeller's statement on Senate passage of the Airline Safety and Federal Aviation Administration Extension Act of 2010 follows:
"Improving airline safety for American travelers has always been one of my top priorities. The families of the victims of Flight 3407 have my full support in demanding one level of safety among all air carriers—large and small. The extension I've negotiated takes a big step forward in improving the safety of our skies—it will boost pilot training programs, combat pilot fatigue, and dramatically increase requirements for pilots of passenger airlines to have more flying experience by mandating a minimum of 1,500 hours—up from 250 hours currently—before they can fly commercial aircraft.
"I am disappointed that a few parochial concerns have stalled progress on a significant FAA package that will support thousands of jobs, strengthen airline safety, modernize America's outdated air traffic control system with satellite-based navigation—which is sorely needed—and which will fundamentally transform aviation safety.
"Rest assured, I will keep fighting and push for passage of this comprehensive and important bill that will lead to a better aviation system for all Americans."
The Airline Safety and Federal Aviation Administration Extension Act of 2010:
Requires the Secretary of the Department of Transportation (DOT) to report annually on the status of the agency's adoption of National Transportation Safety Board (NTSB) recommendations, including an explanation for any deadline that has not been met.
Requires the FAA to create a comprehensive pilot record database to be maintained by the FAA for air carriers to track and review pilot work histories.
Establishes a task force to evaluate and make recommendations on pilot education, professional standards, information sharing between air carriers, and training standards and performance.
Requires the DOT Inspector General (IG) to conduct a review of aviation safety inspectors and operational research analysts. The review includes an assessment of the FAA's oversight of commercial air carriers, the level of aviation inspector and operational research analyst staffing and experience, and the surveillance responsibilities of aviation safety inspectors.
Mandates the creation of an Aviation Rulemaking Committee (ARC) to develop crewmember mentoring and professional development programs.
Requires the Administrator of the FAA to conduct a study on aviation industry best practices with regard to pilot pairing, crew resource management techniques, and pilot commuting.
Requires FAA rulemakings to ensure commercial air carriers provide pilots with: a) stall, upset recognition, and recovery training; and b) remedial training. This provision also requires the FAA to convene a multidisciplinary panel to study and report on methods to improve pilots' familiarity with stick pusher systems, icing conditions, and microburst and wind shear events.
Requires the FAA to complete its on-going rulemaking on pilot and aircraft dispatcher training, and issue a final rule within 14 months. It also requires the Administrator to convene a multidisciplinary panel to assess and make recommendations on pilot training, including initial and recurrent testing requirements and classroom instruction.
Requires any ticket agent, air carrier, or other person selling tickets for air transportation to disclose the actual air carrier providing the air transportation.
Requires the FAA to perform random, onsite inspections of regional air carriers not less than once each year.
Requires the Administrator to issue regulations on flight time and rest requirements based on the latest scientific evidence to address pilot fatigue. The provision also requires the National Academy of Sciences to study the effect of commuting on pilot fatigue, and requires the Administrator to update regulations based on the study's findings if appropriate.
Requires the Administrator to issue a report to Congress within 180 on the Aviation Safety Action Program (ASAP), the Flight Operational Quality Assurance (FOQA) program, the Line Operations Safety Audit (LOSA) program, and the Advanced Qualification Program (AQP).
Requires the FAA to develop and implement a plan to facilitate the establishment of the ASAP and FOQA programs at all commercial air carriers.
Requires the FAA to conduct a rulemaking to mandate all commercial air carriers implement Safety Management Systems (SMS), and consider including ASAP, FOQA, LOSA, and AQP as part of required SMS.
Requires the FAA to complete a rulemaking to revise commercial pilot requirements and mandates all commercial pilots to have a minimum of 1,500 hours of flight experience (up from 250 hours).
Directs the FAA Administrator to revise requirements to receive an Air Transport Pilot (ATP) license within 36 months, including provisions that would mandate training in a multi-pilot environment, adverse weather and icing conditions, high altitude operations, professional standards, and the air carrier operational environment.
###