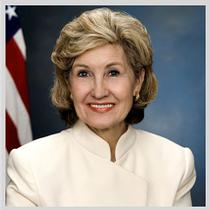 WASHINGTON, D.C. – Senator Kay Bailey Hutchison (R-Texas), Ranking Member on the Senate Commerce, Science, and Transportation Committee, today said it was important to focus on the safety of the nation's oil and gas pipelines during a Commerce Committee hearing on pipeline safety.
"The ongoing Deepwater Horizon crisis in the Gulf is an urgent safety wake-up call not only for offshore drilling rigs, but for the nation's vast oil and gas pipeline system," said Senator Hutchison. "While the safety record for pipelines has continued to improve, it is important for our Committee to consider what more needs to be done as we begin the process of reauthorizing the pipeline safety program."
Senator Hutchison noted that the oil and gas industry plays an important role in the Texas economy, and contributes greatly to the quality of life for all Americans. She said that Texas produces one quarter of the nation's refined petrochemical products, and 30 percent of the nation's natural gas supplies, and it has more miles of pipeline than any other state – over 220,000 miles, located both on-shore and in the Gulf of Mexico.
"In just the past few weeks, there have been two deadly gas pipeline accidents in Texas, both of which resulted from pipeline damage during excavation work," Senator Hutchison said. "The accidents highlight the need to focus more attention on the national One-Call program. Every accident caused by excavation is a preventable accident, and I want to see that the Texas Excavation Safety System, and the One-Call systems in other states, are consulted by all developers, construction companies, and others with a need to dig in the vicinity of a pipeline."
The One-Call notification program was designed to provide grants to states that establish notification systems to enhance public safety, protect the environment, minimize risks to excavators, and prevent disruption of vital public services by reducing the risk of damage to underground facilities during excavation.
Senator Hutchison said the last two reauthorizations of the pipeline safety program have transformed how pipelines are regulated in this country, from a system of traditional enforcement by federal and state inspectors, to a system built on "integrity management," under which pipeline owners are responsible for inspecting and making repairs to critical portions of their lines on a scheduled basis.

# # #

You can view Senator Hutchison's statement here.