Will Introduce Resolution of Disapproval to Halt New Rules
December 21, 2010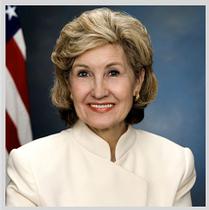 WASHINGTON, D.C. – Senator Kay Bailey Hutchison (R-Texas), Ranking Member on the Senate Commerce, Science, and Transportation Committee, today said new Internet regulations adopted by the Federal Communications Commission (FCC) threaten the future economic growth of the Internet. Sen. Hutchison will introduce a resolution of disapproval in an effort to halt the new rules.
"This vote is an unprecedented power-grab by the unelected members of the Federal Communications Commission, spearheaded by Chairman Genachowski. The FCC is attempting to push excessive government regulation of the Internet through without Congressional authority and these actions threaten the very future of the technology," said Sen. Hutchison.
"These new regulations will raise uncertainty about the methods and practices communications companies may use to manage their networks, subjecting them to potential legal liability. Heavy-handed regulation threatens investment and innovation in broadband services, placing valuable American jobs at risk. Individuals and businesses alike are rightfully concerned about government attempts to seize control of the Internet, and I will introduce a resolution of disapproval in an effort to overturn this troubling regulatory overreach by the FCC," Sen. Hutchison said.

Last week Senator Hutchison filed an amendment to prevent the Federal Communications Commission from regulating the Internet. The amendment specifically would have prohibited the FCC from using any appropriated funds "to adopt, implement, or otherwise litigate any network neutrality based rules, protocols, or standards." The amendment was cosponsored by Senators Tom Coburn (Okla.), John Cornyn (R-Texas), Jim DeMint (R-S.C.), John Ensign (R-Nev.), Johnny Isakson (R-Ga.), John Thune (R-S.D), and Roger Wicker (R-Miss.).
# # #