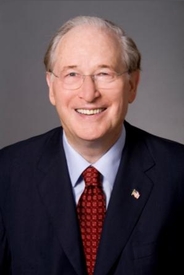 WASHINGTON, D.C.—Thank you, Senator Pryor, for holding this hearing. I know that consumer product safety is a subject matter near and dear to your heart, and the American people owe you a debt of gratitude for all of the work you've done on this issue.
Consumer product safety is an issue I also care deeply about. Let me share these two stories: on April 12, 2005, Nicola Johns awoke and went to the room where she had put her 9-month-old son, Liam, to bed the night before. There she discovered her infant son trapped in between the rail and the mattress of the crib. Liam's body was limp. He wasn't breathing. He had died of asphyxiation.
On Thanksgiving Day, 2005, Ken and Penny Sweet rushed their 20-month-old son, Kenny, to the emergency room. Kenny had been vomiting and complaining of stomach pains. He died shortly after arriving at the emergency room. The cause: tiny, powerful magnets he'd swallowed from his older brother's toy. The magnets ripped through Kenny's intestines like bullets.
These stories are heartbreaking. There are many more of them. Every day, American families are put at risk when manufacturers and regulators fail to catch a dangerous toy or product before it gets to a child. In 2008, more than 35 million consumers suffered from injuries, and, on average, more than 28,000 consumers die every year from injuries from consumer products. Thankfully, child toy-related deaths dropped from 24 to 12 last year. But the risks still remain unacceptably high. More than 250,000 children were rushed to the emergency room last year due to toy-related injuries.
Today's hearing is about making sure that mothers and fathers do not have to worry about the safety of the products they buy for their kids.
The Consumer Product Safety Commission's (CPSC) mission is to prevent as many consumer product related deaths and injuries as possible. As millions of Americans go shopping during the holiday season, they should know that the products they are buying – particularly for their children – are safe. The holidays are a time for family gatherings and cheer. They should not involve trips to the emergency room because of a defective toy.
Three years ago, there was a public crisis of confidence in the agency's ability to keep Americans safe from hazardous products. Consumers were bombarded with stories of high-levels of lead in toys and recall after recall of children's products. In response, Congress passed the Consumer Product Safety Improvement Act (CPSIA) to enhance the authority of the CPSC. This landmark legislation received overwhelming bipartisan support.
Under Chairman Tenenbaum's leadership, the Commission has taken great steps to rebuild consumers' trust in the products they buy and in the ability of the government to effectively monitor product safety. I commend the CPSC for successfully meeting many of the law's deadlines and promulgating rules that will protect consumers for generations to come.
The Commission's recent adoption of a rule establishing the consumer database mandated in CPSIA is an example of the CPSC's good work. For years, consumers have been able to submit and read complaints on cars, cars parts and car seats on the National Highway Traffic Safety Administration's website. Soon a broader consumer product database will be available to the public.
I acknowledge, however, that challenges remain, and that the Commission continues to grapple with a few outstanding issues. Some stakeholders have raised concerns about certain aspects of the law, and the CPSC has recommended potential amendments to the law as well. We are taking a hard look at those concerns and recommendations.
I look forward to working with my colleagues to make sure we are doing everything in our power to improve the CPSC, promote product safety and protect American families.
###