Calls for Investigation by NASA Inspector General
May 26, 2010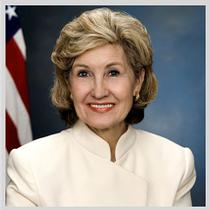 WASHINGTON, D.C. – Senator Kay Bailey Hutchison (R-Texas), Ranking Member on the Senate Commerce, Science, and Transportation Committee, today questioned the timing of the reassignment of the manager for the Constellation program and called it a "troubling development."
"I am deeply troubled to have learned that the program manager for the Constellation program was removed from his post. The timing of the program manager's removal raises significant concerns about whether NASA is continuing to implement the authorized program as directed by Congress. Emails sent to program officials last week indicate that NASA senior administrators were actively mandating de-prioritizing funding for elements of the program that do not fit within the President's new proposal," said Senator Hutchison.
"I will be requesting NASA's Inspector General to conduct a full and thorough investigation," said Senator Hutchison. "I will work closely with my colleagues to ensure we have a clear record of what NASA is doing to comply with Congressional direction and to guarantee that NASA employees receive the full measure of protection guaranteed to them by the law as we complete our review of the President's Fiscal Year 2011 Budget request."
Hutchison noted that during a hearing before the Senate Commerce Committee on May 12th, NASA Administrator Charles Bolden was specifically asked whether he was communicating publicly that the Constellation program was being terminated and that the law prohibits any movement toward terminating the program. He stated on the record that he was not.
The relevant exchange between Sen. George Lemieux (R-Fla.) and Bolden is outlined below:
SEN. LEMIEUX: Let me quickly, since my time is short, ask you about termination. Are you telling vendors right now that you're terminating the Constellation program?
MR. BOLDEN: No, sir. I am not. I cannot tell them that. They know, however, that the 2011 budget -- that the president's 2011 budget proposal, the language is very explicit. It calls for termination of the Constellation program.
SEN. LEMIEUX: But that's just his proposal.
MR. BOLDEN: That's his proposal.
SEN. LEMIEUX: You understand the law of the land right now is –
MR. BOLDEN: Sir, I abide by the law of the land right now. And we are not terminating anything. I can't do that lawfully.

During a hearing before the House Science and Technology Committee today on NASA's proposed human spaceflight plan, Administrator Charles Bolden acknowledged that the Constellation program manager was being reassigned to another position at the Johnson Space Center as deputy director for strategic plans.
# # #