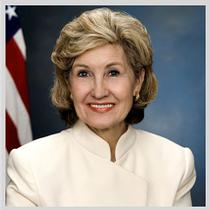 WASHINGTON, D.C. – Senator Kay Bailey Hutchison (R-Texas), Ranking Member on the Senate Commerce, Science, and Transportation Committee, today expressed her disappointment in the Obama Administration's proposal for NASA during a Commerce Committee hearing on the future of U.S. human space flight.
"The Administration's proposal for NASA discards billions of dollars of important technology and engineering advancements paid for by American taxpayers, and places us on a course that relies on a still developing commercial market, to fill a role carried on for decades by the world's preeminent space agency," said Senator Hutchison. "Our 40-year legacy of leadership in space is on the line and we need to have a credible plan to take the next step forward, enhancing our investment over the last four decades. We will get to Mars by building upon our existing capabilities, including our infrastructure, prior investment, and the most skilled workforce in the world."
Senator Hutchison noted that the International Space Station (ISS) underpins America's reason to send humans into space in the short and mid-term, while working on new technologies to take us farther. She suggested that flying out the shuttle program on the current schedule before performing a comprehensive analysis of ISS equipment and part needs is an enormous risk.
"I have proposed stretching out the remaining shuttle missions over the next two years and adding the standby flight as an actual flight with available cargo capabilities," Senator Hutchison said. "That would allow for the analysis and careful planning that is needed to minimize the risk to the space station and bridge part of the gap to new launch vehicles. The space station provides our primary reason for current and future space flight and offers almost the entire business case for many of the emerging commercial space companies in the short run. The Administration owes us an answer why it will not consider stretching out the existing shuttle fights when the benefits of doing so are apparent. American exceptionalism demands more, the brave men and women that climb aboard rockets to explore the frontiers of space require more and, future generations of American children deserve more."

Senator Hutchison recently introduced legislation, the Human Space Flight Capability Assurance and Enhancement Act (S. 3068), to address these concerns by allowing for the extension of the shuttle, if needed for station sustainability, at a reduced rate of two flights per year. The bill would also authorize the accelerated development of a NASA-owned shuttle replacement, such as a shuttle-derived design using existing systems and capabilities and the current contractor work force.
# # #
You can view Senator Hutchison's statement here.