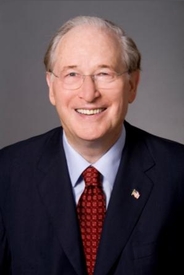 WASHINGTON, D.C.—Before we begin, I'd like to acknowledge that this will be the final Commerce Committee hearing chaired by Byron Dorgan. And while Senator Dorgan's over quarter-century of service certainly entitles him to a career change, the Senate and this Committee will be worse off for it. For me, Senator Dorgan's departure means the loss of a friend. Through the years, Senator Dorgan has been by my side, in the good times and the bad. He always fights the good fight, and the sheer volume of bills that bear his name is a testament to his tireless advocacy on behalf of North Dakota and this nation. So if everyone would indulge me, I'd like to take a couple minutes today to talk about Senator Dorgan.
First, he's a tireless worker. It's fun to see him in action. He seems to be everywhere at once. There have been times I've turned on the TV, and there's Byron speaking up, and speaking out: not on one news channel, but on three. He's always tackling issues he cares about with great passion and verve.
Senator Dorgan's legendary work ethic is no doubt symptomatic of his North Dakota roots, where people respect an honest day's pay for an honest day's work – much like in my home state of West Virginia. He's been a one-man champion for the nation's workforce, always fighting to make sure the good jobs are here in America – not shipped to China or Mumbai. He's fought for our middle-class, for good wages and good benefits. In short, he's fought to preserve and protect the American dream.
I feel personally privileged to have served with Byron for so long, and to have worked with him on so many issues. Sure, there've been times we didn't always see eye to eye. But I honestly can't think of a single one right now. I do know that when we've disagreed, we could always do so without being disagreeable.
Senator Dorgan is a consensus-builder and solution-seeker. He's poured his heart and soul into his service. And as I've noted before, the Senate will be worse off for not having Senator Dorgan in it. But I also know, for Senator Dorgan and me, this is not goodbye – just farewell for now. He will always remain a friend, advisor and confidante. I will greatly miss the support Senator Dorgan has provided me, and so many colleagues, over the years. I'm going to relish this last chance to sit next to a great man as we tackle yet another issue of grave importance to our nation.
Today, we're here to talk about the importance of aviation security. Significant steps have been taken to strengthen our air transportation security network in the United States. But recent threats to U.S. travelers have originated from aviation systems abroad.
We must take appropriate action to close any aviation security loopholes. Aviation is global. A security breach in one location affects us all. We need to improve cooperation with our foreign partners. We also need industry buy-in and partnerships to be effective.
I remain hopeful that we are on the proper path to keep the aviation system safe in the international environment, but clearly that work is not yet complete. We need consistency from the world-wide security network without becoming rigid. By working together – government and private sector – our odds of success will greatly improve.
I look forward to hearing the testimony of our witnesses. I want to understand the actions they are taking to address these issues, and what further steps might be needed to make sure our global aviation security is as safe and secure as possible.
###